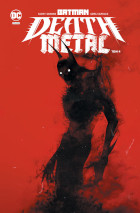 BATMAN METAL: BATMAN DEATH METAL, TOM 4
Data wydania: 13 kwietnia 2022
Scenariusz: Scott Snyder, Joshua Williamson, James Tynion IV
Rysunki: Greg Capullo, Yanick Paquette, Brian Hitch
Tłumaczenie: Tomasz Sidorkiewicz
Druk: kolor, kredowy
Oprawa: twarda
Format: 170 x 260
Ilość stron: 296
Wydawca: Egmont Polska
Wydawca oryginalny: DC Comics
Cena: 99,99 zł
Plan Supermana, Batmana i Wonder Woman na pokonanie Perpetui nie powiódł się – nawet przy pomocy Lexa Luthora, Lobo i Ligi Sprawiedliwości z Nightwingiem na czele. Co gorsza, Najmroczniejszy Rycerz zdobył wystarczającą ilość energii antykryzysu, aby przekształcić wszystko, co istnieje, w Multiwersum, Które się Śmieje. Bohaterowie nie mają dużego wyboru: muszą przywrócić wszystkie wersje przeszłości, jakie istniały, albo zginąć.
Czy to koniec multwiersum, jakie znamy? Jaki kształt przybierze, kiedy rozegra się ostateczna bitwa? Odpowiedź znajdziecie w ostatnim, czwartym tomie serii "Batman Death Metal" kończącym niezwykłą sagę autorstwa Scotta Snydera i Grega Capullo, twórców serii "Batman" i "Batman Metal".
Ta szalenie ambitna opowieść zawiera wszystkie dodatkowe epizody autorstwa znakomitych artystów jak James Tynion IV ("Justice League Dark"), Joshua Williamson ("Flash", "Suicide Squad"), Geoff Johns ("Zegar Zagłady") czy Francis Manapul ("Flash"). W albumie znajdują się materiały opublikowane pierwotnie w amerykańskich zeszytach: "Dark Nights: Death Metal" #6-7, "Dark Nights: Death Metal – The Last Stories of The DC Universe" #1, "Dark Nights: Death Metal – The Secret Origin" #1, "Dark Nights: Death Metal – The Last 52: War of The Multiverses" #1.
---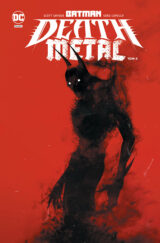 ---