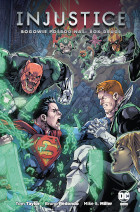 INJUSTICE: BOGOWIE POŚRÓD NAS. ROK DRUGI, TOM 2
Data wydania: 13 kwietnia 2022
Scenariusz: Tom Taylor, Marguerite Bennett
Rysunki: Xermanico, Bruno Redondo, Mike S. Miller
Tłumaczenie: Tomasz Sidorkiewicz
Druk: kolor, kredowy
Oprawa: twarda
Format: 170 x 260
Ilość stron: 312
Wydawca: Egmont Polska
Wydawca oryginalny: DC Comics
Cena: 109,99 zł
Superman był największym ziemskim bohaterem. Nie mógł jednak ochronić domu, żony ani rodziców przed Jokerem. Postanowił, że jedyną drogą do zaprowadzenia pokoju na Ziemi będzie zakończenie wszystkich konfliktów. Zaczął od przebicia pięścią piersi Jokera. A później poszerzał skalę działań.
Batman pozostaje wierny przekonaniu, że każdy zasługuje na uczciwy proces, niezależnie od rozmiaru popełnionych zbrodni. Obecnie prowadzi ruch oporu, który przeciwstawia się autorytarnym rządom byłego przyjaciela. Członkowie Korpusu Zielonych Latarni zauważyli drastyczne zmiany, jakie zaszły na Ziemi, i wyruszają na nią z zamiarem interwencji. Superman ma jednak ważne pytanie, które chce zadać ich przywódcom: dlaczego pozwolili na zagładę Kryptona?
Komiks równie wypełniony akcją jak fenomenalna gra, która była inspiracją do jego powstania.
"Injustice: Bogowie Pośród Nas – Rok Drugi" opowiada historię świata, w którym istoty o niemal boskich mocach próbują zaprowadzić porządek.
Scenarzysta Tom Taylor ("DCeased", "Suicide Squad: Zła Krew") oraz rysownicy Bruno Redondo ("Batman: Arkham Unhinged") i Mike S. Miller ("A Game of Thrones") oraz cała rzesza znakomitych artystów zapraszają do lektury drugiego tomu bestellerowej serii.
Album zawiera materiały opublikowane pierwotnie w amerykańskich zeszytach w formie cyfrowej jako "Injustice: Gods Among Us Year Two" #1–24, a później drukowanej jako "Injustice: Gods Among Us Year Two" #1–12 i "Injustice: Gods Among Us Year Two Annual" #1. "
---
Wydanie powstało na podstawie komiksu: INJUSTICE: GODS AMONG US YEAR TWO – THE COMPLETE COLLECTION.
---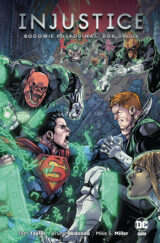 ---