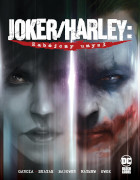 JOKER/HARLEY: ZABÓJCZY UMYSŁ
Data wydania: 18 maja 2022
Scenariusz: Kami Garcia
Rysunki: Mike Mayhew, Mico Suayan, Jason Badower
Tłumaczenie: Maria Lengren
Druk: kolor, kredowy
Oprawa: twarda
Format: 216 x 276
Ilość stron: 304
Wydawca: Egmont Polska
Wydawca oryginalny: DC Comics
Cena: 149,99 zł
Odrażające akty przemocy to nic niezwykłego w Gotham City. W najtrudniejszych przypadkach lokalnej policji konsultacji udziela Harley Quinn – profilerka i psychiatra sądowy. Od pamiętnej nocy, gdy odkryła ciało swojej współlokatorki naznaczone przez seryjnego mordercę znanego jako Joker, ta sprawa nie daje jej spokoju.
Pięć lat po zabójstwie nadal nie ujęto sprawcy, a rozpoczyna się kolejna seria przerażających morderstw. W miarę jak poziom okrucieństwa eskaluje, a zbrodnie stają się coraz bardziej wyszukane, obsesja Harley na punkcie znalezienia odpowiedzialnego za nie psychopaty się pogłębia. Kiedy przeszłość i teraźniejszość w końcu się spotykają, Harley musi zdecydować, jak daleko jest gotowa się posunąć i ile granic przekroczyć, żeby ostatecznie rozwikłać tajemnicę.
"Joker/Harley – Zabójczy umysł" ze scenariuszem autorki bestsellerów z listy "New York Timesa" Kami Garcii ("Piękne istoty", "Unbreakable", "The X-Files Origins: Agent of Chaos"), rysunkami Mica Suayana ("Bloodshot Reborn"), Jasona Badowera ("Wonder Woman '77") i Mike'a Mayhew ("Star Wars") to niezwykle oryginale ujęcie postaci Jokera i Harley Quinn. Wykorzystanie psychiatrii sądowej i specjalistycznych profili psychologicznych pozwoliło stworzyć pełnokrwiste, wiarygodne wcielenia tych antybohaterów, bardziej przerażające od wszelkich psychotycznych fantazji.
Album zawiera materiały pierwotnie opublikowane w amerykańskich zeszytach "Joker/Harley: Criminal Sanity" #1-8 oraz "Joker/Harley: Criminal Sanity Secret Files" #1.
---