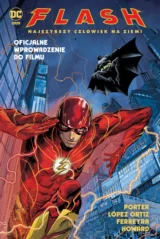 FLASH: NAJSZYBSZY CZŁOWIEK NA ZIEMI
Data wydania: 17 maja 2023
Scenariusz: Kenny Porter
Rysunki: Juan Ferreyra, Jason Howard, Ricardo Lopez Ortiz
Tłumaczenie: Marek Starosta
Oprawa: miękka ze skrzydełkami
Format: 167×255
Ilość stron: 128
Wydawca: Egmont Polska
Wydawca oryginalny: DC Comics
Cena: 49,99 zł
Album opowiada o początkach kariery Barry'ego Allena w roli Flasha, jest też oficjalnym wprowadzeniem do filmu "Flash", którego premiera kinowa zaplanowana jest na czerwiec 2023 roku.
Po trudnych przejściach w Lidze Sprawiedliwości Barry postanowił trenować, aby stać się inspirującym bohaterem. Gdy w Central City pojawiają się nowi wrogowie, Flash zwraca się do Batmana z prośbą o wsparcie w opanowaniu swoich mocy. Ale nawet pod kierunkiem Mrocznego Rycerza nie będzie to łatwe. Gdy Szkarłatny Sprinter odkryje swoje nowe zdolności, będzie musiał bronić miasta przed takimi zagrożeniami jak metaliczny Girder, straszliwy Tarpit czy wirujący Top. Czy sprinter zdoła okiełznać moc prędkości i zostawi przeciwników daleko w tyle, czy też zderzy się ze ścianą?
Wszystko okaże się w utrzymującym zawrotne tempo prequelu filmu kinowego "Flash".
Scenariusz stworzył Kenny Porter ("DC: Mech"), a rysunki są dziełem takich artystów jak: Ricardo López Ortiz ("Batman"), Juan Ferreyra ("Green Arrow", "Gotham by Midnight") i Jason Howard ("Batman").
Album zawiera materiały pierwotnie opublikowane w amerykańskich zeszytach "The Flash: The Fastest Man Alive" #1–3.
Jak zapewne większość fanów Człowieka-Nietoperza w naszym kraju, po komiksowy wstęp do filmu "The Flash" sięgnąłem nie dla tytułowego bohatera, a dla mojej ulubionej fikcyjnej postaci. Niestety – dla mnie – "Flash: Najszybszy Człowiek na Ziemi" to zbiór trzech historii o Flashu, którym nie jestem zbytnio zainteresowany, a Batmana (obecnego na okładce) jest tu jak na lekarstwo. Pojawia się on tu jedynie w pierwszej historii, w której pełni rolę gościnną. Batman znany z wcześniejszych filmów kinowego uniwersum DC (grany przez Bena Afflecka) stara się być mentorem dla Barry'ego Allena, a także podarował mu nowy gadżet – pierścień, z którego wychodzi jego nowy strój. Mała rzecz (dosłownie), ale przydatna dla każdego, kto chce wiedzieć skąd Szkarłatny Sprinter zdobył nowy kombinezon, bo w samym filmie odpowiedzi nie otrzymamy.
Nie wiem co więcej mógłbym napisać o reszcie tego komiksu. Ot, trzy niespecjalne historie, w których Flash ściera się z groźnym przeciwnikiem, ucząc się przy tym nowych umiejętności i jak być lepszym bohaterem (jedną z tych umiejętności jest przechodzenie przez ściany, które również odegra pewną rolę w kinowym widowisku). Całość czytało mi się bezboleśnie, ale też bez większego zainteresowania, bo nastawione na akcję komiksy nie są dla mnie zbyt interesujące. Nie pomaga również warstwa graficzna – nie przepadam za współczesnymi ilustracjami w amerykańskich komiksach, w tym przypadku kilka kadrów jeszcze jakoś doceniłem, ale większość uważam po prostu za paskudy.
Do samego wydania Egmont Polska nie mam żadnych uwag – porządna robota w miękkiej oprawie, której jestem fanem. Jednak komiks polecam wyłącznie zagorzałym fanom Flasha oraz filmu Andy'ego Muschiettiego. Nie jestem ani jednym ani drugim, dlatego dla mnie to zbędny zabieracz miejsca na regale, do którego raczej nigdy nie wrócę.
Recenzował: Juby
---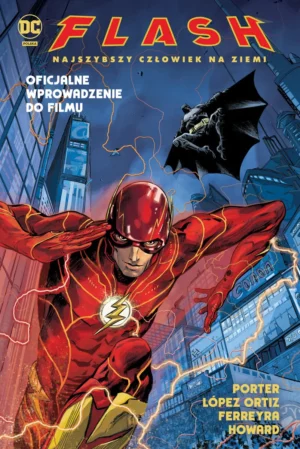 ---