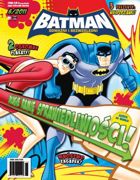 BATMAN – ODWAŻNI I BEZWZGLĘDNI #6
Data wydania: 30 grudnia 2011
Scenariusz: Landry Walker
Rysunki: Eric Jones
Tusz: Eric Jones
Kolor: Heroic Age
Druk: kolor, kredowy cienki
Oprawa: miękka
Format: A4
Ilość stron: 32
Wydawca: Egmont Polska
Wydawca oryginalny: DC Comics
Cena: 9,99 zł
Redaktor naczelna: Ewa Drabikowska
WITAJCIE W SZÓSTYM NUMERZE NASZEGO PISMA I ZAPRASZAMY W PODRÓŻ DOOKOŁA ŚWIATA Z BATMANEM! MROCZNY RYCERZ PRZEŻYJE CZTERY KRÓTKIE PRZYGODY W ROŻNYCH CZASACH I W CIEKAWYM TOWARZYSTWIE. W NUMERZE ZNAJDZIECIE RÓWNIEŻ NA MAKSA ZAKRĘCONE ZAGADKI, DWA FANTASTYCZNE PLAKATY I CHARAKTERYSTYKĘ PLASTIC MANA!
Batman nie może liczyć na wolny weekend, bo różnego pokroju łotry nigdy nie odpuszczają. W niedziele Batman z pomocą Metamorpho, który co prawda próbuje zbyt zawiłych sztuczek w walce, rozprawia się z Mister Elementem.
W poniedziałek Batman w kosmosie z całą gwardią Zielonych Latarń aresztuje Mongula.
We wtorek wraz z Merry, Girl of a 1,000 Gimmicks, Nietoperz rozprawia się z Toymanem, któremu co gorsza urocza bohaterka wpada w oko.
W środę, na dzikim zachodzie, w samo południe, Batman z Jonah Hexem rozprawia się z pewnym gangiem.

W czwartek po kradzieży w muzeum i znalezieniu pióra, które nie należy do żadnych ziemskich istot, Batman z pomocą Hawkmana musi stawić czoło Gentleman Ghostowi, który po zdobyciu mistycznego kielicha Melina sprawia spore kłopoty. Ale ku swojej zgubie do walki z bohaterami przywołuje Demona Etrigana, który nie jest zainteresowany czystymi i odważnymi duszami bohaterów, zamiast tego woli duszę łotra.
W piątek Akwadarman zatrzymuje drobnego rabusia, który ukradł staruszce torebkę. Jak się okazuje to sam Batman przebrany był za staruszkę, bo od tygodni starał się rozbić gang złodziei torebek.
W sobotę Batman i Creeper muszą zachować ostrożność w walce, by nie zranić niewinnych mieszkańców, nim udaje im się namierzyć odpowiedzialnego za całe zamieszanie Stracha na Wróble.
W niedziele po schwytaniu Doomsdaya O'Hara pyta się Batmana, czemu ten będący przecież typem samotnika tak często działa razem z innymi bohaterami. Nietoperz odpowiada, że chociaż on nie potrzebuje ich pomocy, to oni potrzebują jego.
Za końcówkę z O'Harą i stwierdzenie Batmana, że to inni bohaterowie potrzebują jego pomocy ocena wyższa o pół nietoperka. Historie w stylu A Batman's Work is Never Done to takie, w których zarazem wiele się dzieje, ale tak naprawdę ma się wrażenie przesytu. Za dużo tu różnych działań bohaterów, by fabuła poszczególnych przygód Batmana miała coś więcej do zaoferowania. Na uwagę na pewno zasługuje klimatyczna sekwencja na dzikim zachodzie, czy też fakt, że nawet zwykły gang złodziei torebek musi się obawiać Batmana. Bo chociaż jednego dnia bohater może dopaść Doomsdaya, to drugiego jego celem może być ktoś znacznie mniej potężny. Bo dopóki różni łotrzy nie nauczą się prowadzić prawego życie, to i tak prędzej czy później wpadną w ręce Batmana.
Ocena: 4 nietoperki

---
Komiks powstał na podstawie 6. numeru brytyjskiego magazynu dla dzieci Batman: The Brave and the Bold wydawanego przez Titan Magazines, który zawiera historię z amerykańskiego oryginału BATMAN: THE BRAVE AND THE BOLD #17 (2010).
---