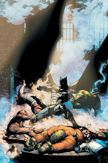 W związku z ostatnio zapowiedzianymi zmianami w DC Comics serwis Newsarama opublikował wywiad ze scenarzystą Scottem Snyderem, który od września odpowiadać będzie za serie "Batman".
Snyder zdradził, że początkowo miał pomysł na epicką historię, która miała ukazać się na łamach "Detective Comics", ale po tym jak dowiedział o jesiennych zmianach wraz z redaktorem naczelnym doszli do zdania, że ta opowieść powinna ukazać się w "Batmanie". Ma ona ukazywać relację pomiędzy Bruce'em i Gotham. Scenarzysta zdradził również, że dużą role będzie odgrywać historia miasta. Zapewnił także, że wydarzenia z historii Batmana, które fani uwielbiają, cały czas są częścią uniwersum. Nowy "Batman" ma być głównie komiksem o Batmanie, ale w 1. numerze pojawią się także Damian, Tim i Dick. Snyder podzielił się też swoją opinią na temat rysownika "Batmana" Grega Capullo, który według niego jest idealny do Batmana.
We wrześniu zadebiutuje również "Red Hood and the Outlaws" wywiad z scenarzystą tej serii Scottem Lobdellem można przeczytać pod tym adresem. Natomiast w ramach rubryki "The Bat Signal" serwis CBR zamieścił wywiad ze scenarzystą "Batman Beyond" Adamem Beechenem.