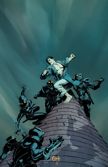 Na oficjalnym blogu DC Comics można się już zapoznać z zapowiedziami Bat-tytułów na kwiecień.
BATMAN #8
Połamany i pobity Bruce Wayne wycofuje się z Gotham City – miasta Sów – do Wayne Manor. Nigdzie nie jest bezpiecznie, bo Court of Owls zamierza zaatakować samo serce miasta i nic już nigdy nie będzie takie samo. Nie przegap rozpoczęcia walki o duszę Gotham… i wprowadzenia do "The Night of the Owls".
W pierwszym rozdziale dodatkowej historii poznasz sekrety Court of Owls, a także sekrety Gotham City i rodziny Wayne'ów!