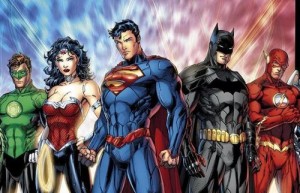 Wraz z informacjami, że Ezra Miller zagra głównego bohatera w filmie "Flash", którego premiera zaplanowana jest na 2018 rok, poznaliśmy kolejne szczegóły na temat filmowego uniwersum DC. Są to oficjalne informacje podane podczas Time Warner Investor Day, przez prezesa Warner Bros. Kevina Tsujihare.
W 2016 roku oprócz "Batman v Superman: Dawn of Justice", na ekrany kin ma wejść również "Suicide Squad" w reżyserii Davida Ayera.
W 2017 osobny film otrzyma Wonder Woman, którą zagra Gal Gadot. W tym samym roku premiera "Justice League, Part One".
W 2018 roku oprócz "Flasha" na ekranach kin zagości również "Aquaman" z Jasonem Momoą w roli głównej.
Rok 2019 to premiera "Shazam" z Dwayne'em Johnsonem w roli Black Adama oraz "Justice League, Part Two" w reżyserii Zacka Snydera.
2020 premiera "Cyborga" z Rayem Fisherem w roli głównej oraz nowym film z Green Lanternem.
W planach są również osobne filmy z Supermanem i Batmanem. "The LEGO Batman Movie" zadebiutuje 26 maja 2017, a rok później "The LEGO Movie 2″.
Czytaj dalej →