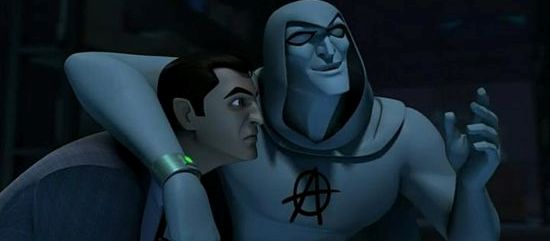 Tytuł odcinka:
"NEXUS"
Data premiery:
15 marca 2014
Reżyseria:
Sam Liu
Scenariusz:
Mark Banker
Twoja ocena:
GD Star Rating
loading...
Obsada:
Anthony Ruivivar
Sumalee Montano
Kurtwood Smith
CCH Pounder
Michael Patrick McGill
Christopher McDonald
Wallace Langham
Batman/Bruce Wayne
Tatsu Yamashiro/Katana, Karen
James Gordon
Marion Grange
oficer O'Brien
Harvey Dent
Anarky
Sześć miesięcy od ataku Ligi Zabójców, nowy prokurator okręgowy Harvey Dent stara się powstrzymać kryzys masek i peleryn. Batman zostaje wrobiony w próbę zamachu na życie burmistrz Grange i podejmuje drastyczne środki, by dowiedzieć się kto jest za to odpowiedzialny.

W Gotham City zaszły spore zmiany. Półroczny przeskok w czasie sprawia, że w mieście pojawili się nowi bohaterowie, a Bruce musi sobie radzić bez Alfreda. I wygląda na to, że nie specjalnie mu to służy. Chociaż nie jest wyjaśnione dlaczego bohater zaczyna podejmować coraz większe ryzyko.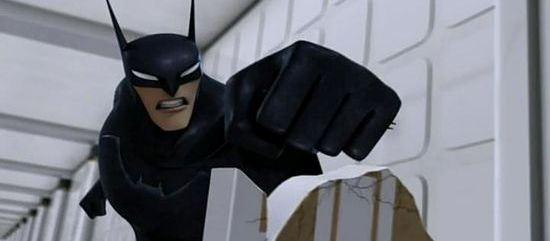 W odcinku powraca dawno niewidziany Anarky i po raz pierwszy pojawia się Harvey Dent, którego już po pierwszych minutach chciałoby się uśmiercić. Tak irytującej wersji słynnego bohatera się nie spodziewałem. Może jako Two-Face będzie bardziej strawny? Nowy plan Anarky'ego polega na wrobieniu Batmana i wszystko układa się dobrze i ma sens do czasu, aż nie pojawiają się wybuchowe opaski, które wybuchną gdy pary bohaterów będą zbyt daleko od siebie. Po co jedną z nich zakłada złoczyńca? Nie ma jak to samemu wystawiać się na niebezpieczeństwo. Oczywiście w każdej chwili może ją zdjąć, bo zna kod, ale czemu pędzi za Kataną, zamiast skazać ją na śmierć? Też wybuch jego wielkiej bomby, wcale nie jest taki groźny jakby można się było tego spodziewać.
Pomysł by wrobić Batmana i zrobić z niego cel policji dowodzonego przez Harveya Denta był niezły. Niestety wykonanie oraz plan Anarky'ego sprawiają, że potencjał tej historii nie został wykorzystany. Może kolejne odcinki, w których Dent będzie miał większe pole manewru, a Batman coraz bardziej będzie się zatracał, okażą się lepsze.
Ocena: 3,5 nietoperka

---
CIEKAWOSTKI I UWAGI:
Odcinek swoją premierę miał w Nowej Zelandii 15 marca 2014 roku.
CYTATY:

Dent: You can't protect Batman forever.
Gordon: Batman doesn't need my protection, Mr. Dent. But keep hounding him, and you might.
Dent: Is that a threat?
Gordon: No. Just the truth.
Anarky: Batman is driving rather slowly for someone with such a fast car.
Katana: The Batmobile's not as fast as it looks. Those rockets–just for show.
Dent: Arrest Batman! And his girlfriend!
Katana: Katana! One name is not that hard to remember.
---
---