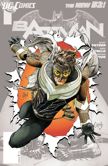 We wrześniu zadebiutuje nowa seria DC Comics, której głównym bohaterem będzie jeden z zabójców Court of Owls" Scenarzystą serii będzie James Tynion IV, który ostatnio udzielił wywiadu serwisowi CBR.
Akcja historii w "Talon #0" rozgrywać się będzie 5 lat przed wydarzeniami, które będą miały miejsce w kolejnych numerach. Czytelnicy poznają Calvina Rose'a i dowiedzą się jak wyglądają jego relacje z Court of Owls. W "Talon #1" umiejętności Calvina zostaną wystawione na próbę. Przez całe swoje życie uciekał przed śmiercią, ale dopiero teraz będzie miał szansę na prawdziwą wolność.
Tak samo jak wielu wcześniejszych Talonów Calvin Rose trafił do Court of Owls poprzez cyrk Harleya, jednak w odróżnieniu od innych zabójców, sowiej organizacji nigdy nie udało się go złamać.