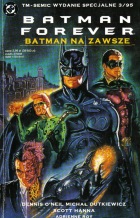 BATMAN FOREVER – WYDANIE SPECJALNE 3/1995
Miesiąc wydania: sierpień 1995 [Nr 15]
Scenariusz: Dennis O'Neil
Rysunek: Michał Dutkiewicz
Kolor: Andrienne Roy
Inker: Scott Hanna
Litery: Anna Krywal
Okładka: John Hanley
Ilość stron: 68
Format: B5
Papier: offsetowy
Oprawa: miękka
Druk: kolor
Tłumaczenie: Katarzyna Rustecka
Wydawca: TM-Semic
Wydawca oryginalny: DC Comics
Twoja ocena:

GD Star Rating
loading...
---
Cytat: "Nie ma nic bardziej sprawiedliwego od rzutu monetą."
Komiksowa adaptacja trzeciej z kolei części filmu o Batmanie – "Batman Forever". W tej opowieści przeciwnikami Mrocznego Rycerza i jego nowego pomocnika – Robina – są kolejni szaleńcy jakim mieszkańcy Gotham i nasz bohater muszą stawić czoło. Miasto terroryzuje Dwie-Twarze, a z pomocą przychodzi mu były pracownik laboratoriów Bruce'a Wayne'a – Edward Nygma, alias Zagadka (Riddler). Batman ma trudne zadanie, ale jak wiemy nie z takim sprawami sobie radził, więc i tym razem wszystko kończy się tak jak powinno.
Komiks powstał na podstawie amerykańskiego oryginału: "BATMAN FOREVER – THE OFFICIAL COMIC ADAPTATION OF THE WARNER BROS MOTION PICTURE".
---
Fragment recenzji jednego z czytelników polskiego "Batmana" zamieszczonej na łamach Batklubu:
Mówiąc szczerze po prostu się zawiodłem. Rzadko kiedy mam okazję czytać tak płaski komiks. Może zbyt surowo go oceniam, lecz uważam, że sam pomysł komiksowej adaptacji filmu mija się z celem. Komiks i film to mimo wszystko dwie odrębne sztuki. W komiksie może zdarzyć się wszystko i to, co zachwyca nas na ekranie, na papierze wypada blado. Chociaż panowie O'Neil, Dudkiewicz, Hanna oraz Roy robili co mogli, to komiks jest przecież tylko komiksem. Nie ujrzymy tam wspaniałej gry aktorskiej Jima Carrey'a (niezapomniany Riddler), czy też niesamowitych efektów specjalnych, które, powiedzmy sobie prawdę, były największymi atutami filmu. Komiks tego nie uchwycił i nawet teksty ściągnięte z filmowego scenariusza nie były już tak zabawne. Ogólnie komiks pełen uproszczeń, przeciętny, lecz jego prawdziwe wady wychodzą dopiero wtedy, gdy obejrzymy wersję tego komiksu.
---