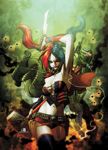 David Ayer dosyć często na Twiterze zamieszcza różne rzeczy związane z przegotowywanym przez niego filmem "Suicide Squad". Wśród wrzuconych zdjęć można znaleźć chociażby fotografie 1. numeru "Suicide Squad" z 2011 roku oraz karabinu snajperskiego (nie będzie to jednak broń Deadshota). Ostatnio reżyser podzielił się również swoim podejściem do postaci Harley Quinn, którą zagra Margot Robbie.
Sprawa Harley Quinn: Jej szaleństwo definiuje ją. Czy ona jest szalona, ze względu na to KOGO kocha czy dlatego, że kocha go tak bardzo?
Wygląda na to, że ważnym elementem filmu będą relację łączące Jokera z Harley.