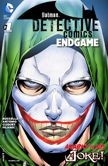 W środę, 11 marca, do sprzedaży w USA trafią m.in. następujące tytuły związane z Batmanem:
BATMAN ETERNAL #49
W tym miesiącu BATMAN ETERNAL: epicka Bat-opowieść trwająca rok zmierza do oszałamiającego końca! Gotham City płonie! Złoczyńcy biegają po ulicach! Bat-technologie zostały uszkodzone! A geniusz stojący za tym wszystkim przystawił nóż do żeber Batmana! Jak Mroczny Rycerz zakończy ten koszmar… i jak to ukształtuje przyszłe oblicze Gotham City?
BATMAN: ARKHAM KNIGHT #1
DETECTIVE COMICS: ENDGAME #1
Miasto jest opanowane przez zjokeryzowane ofiary, ale grupka nastolatków łączy siły by stawić opór. Ich wiedza o ulicach Gotham City pomoże im przetrwać, ale czy Batman przyjmie pomoc z ich strony? I co to może oznaczać dla przyszłości młodych bohaterów w Gotham City?