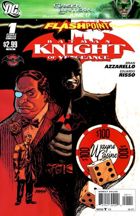 FLASHPOINT – BATMAN: KNIGHT OF VENGEANCE #1
Miesiąc wydania (okładka): Sierpień 2011 (USA)
W sprzedaży od: 01.06.2011 (USA)
Scenariusz: Brian Azzarello
Rysunki: Eduardo Risso
Okładka: Dave Johnson
Kolor: Patricia Mulvihill
Liternictwo: Clem Robins
Ilość stron: 32
Twoja ocena:

GD Star Rating
loading...
Thomas Wayne przekonuje swojego psychiatrę, iż po mimo problemów z kontrolowaniem gniewu, oraz wysoką kłótliwością jest w pełni poczytalny i nie ma powodu, dla którego można byłoby odmówić mu ubezpieczenia dla prowadzonej przez niego firmy. Lekarka odchodzi i pojawia się Penguin – doradca doktora Wayna, który przekazuje mu informacje o zyskach z kasyna i materiał z kamer ochrony. Thomas tłumaczy, że chciał by przestępcy przychodzili do jego kasyna, bo w ten sposób ma nad nimi kontrolę.
Po tej rozmowie Thomas wchodzi do limuzyny i razem z Jimem Gordonem jedzie do Harveya Denta, którego bliźnięta zostały porwane przez Jokera. Wayne obiecuje, że uratuje dzieci, a Harvey grozi, że jeśli tego nie zrobi, to wszystkie hotele i kasyna Wayne'a stracą jego poparcie.
Już będąc sam na sam Jim Gordon informuje Thomasa o informacjach od ćpunów, że w kanałach Gotham grasuje jakaś istota, która porywa ludzi. Okazuje się, że Gordon zna sekretną tożsamość Wayne'a. Thomas informuje sojusznika, że nie potrzebuje pomocy prywatnych sił policyjnych Gotham i sam sobie poradzi.
W kanałach ściekowych Gotham Thomas Wayne już w przebraniu Batmana znajduje grupę ludzi wołających o pomoc. W tej samej chwili od tyłu atakuje go Killer Croc. Nie bez problemów, ale Batmanowi udaje się zabić przeciwnika, wsadzając mu w czaszkę jego własną maczetę.
W międzyczasie Joker przetrzymuje potomstwo Denta, któremu oznajmia, że czas zagrać w grę.
Wydarzenie zatytułowane Flashpoint miało wprowadzić w życie bohaterów DCU spore zmiany i przynajmniej jeśli chodzi o postać Batmana, to się udało. Thomas Wayne jako Mroczny Rycerz jest cóż… mroczny. Przypomina głównego bohatera komiksu Franka Millera, nie tylko po przez siwiznę we włosach, ale całe swoje usposobienie i pesymistyczne spojrzenie na świat.
Twórcy komiksu, ci sami, którzy odpowiadają za niezbyt udane Rozbite miasto, tym razem sprostali oczekiwaniom i podarowali czytelnikom świetny numer. Jako zachęta do czytania kolejnych części sprawdza się znakomicie. Rzetelnie przedstawiono bohaterów, zarysowano główną intrygę, ograniczono dialogi do minimum i dano całą masę akcji. W sumie w całym komiksie ma miejsce tylko jeden pojedynek, ale za to rozciągnięto go na kilka stron i zakończono w jak najbardziej satysfakcjonujący sposób. Koniec końców, nie często się zdarza, żeby jeden z głównych przeciwników Batmana umierał już na samym początku.
Azzarello i Risso odwalili naprawdę kawał dobrej roboty przy tym numerze i stworzyli bardzo mroczną i całkiem brutalną opowieść, która mam nadzieję nie straci swojego charakteru w kolejnych odcinkach.
Ocena: 4,5 nietoperka

---