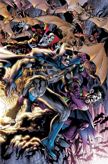 Wielu fanów, a także sam Neal Adams zastanawiało się, kiedy DC Comics zdecyduje się wydać dalszą część historii "Batman: Odyssey". Jak się okazuje "Batman: Odyssey vol. 2 #1" ukaże się w październiku.
"Batman: Odyssey" legendarnego scenarzysty/rysownika Neala Adamsa powraca w nowym tomie!
W końcu do tego doszło: Batman musi zabić lub zostać zabitym. Zagrożenie jest realne i nie może zostać powstrzymane przez człowieka czy bohatera. Żeby to zwalczyć Batman będzie musiał się przenieść do takiego punktu czasu, z którego będzie mógł wyruszyć w odyseje samopoznania do miejsca nieznanego ludzkości. Czy jest to miejsce w którym czeka na niego porażka?
Źródło: CBR