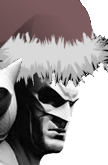 Dziś święto wszystkich Mikołajów, które zwiastuje zbliżającą się wielkimi krokami Gwiazdkę. Z tej wyjątkowej okazji serwis BatCave razem Kulturopolis.pl ogłasza promocję na wszystkie tytuły z Batmanem z oferty sklepu.
Christmas with the Joker? Od dzisiaj nie tylko! Te Święta stoją raczej pod znakiem Nietoperza. Oto szczegóły:
Do końca roku 2011 wszystkie osoby które na www.kulturopolis.pl złożą zamówienie powyżej 100 zł wkładając do wirtualnego koszyka przynajmniej jeden tytuł związany z Batmanem, otrzymają na niego 10% zniżki.
Dodatkowo, pierwsza osoba która złoży zamówienie powyżej 200 zł, będzie miała możliwość zakupu albumu "Batman: Return of Bruce Wayne" ze specjalną zniżką 35% (cena promocyjna 64,99 zł).
Aby być uprawnionym do wzięcia udziału w promocji należy w komentarzu zamówienia wpisać po prostu "Batman na Mikołaja". Po otrzymaniu zgłoszenia pracownik sklepu skontaktuje się drogą mailową podając zredukowaną kwotę zamówienia.
Wesołych Świąt!