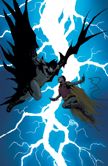 W środę, 8 lutego, do sprzedaży w USA trafią m.in. następujące tytuły związane z Batmanem:
BATMAN AND ROBIN #6
Kiedy więź pomiędzy Batmanem i Robinem pogarsza się, Robin zostaje zmuszony przez NoBody'ego do podjęcia życiowej decyzji…
PENGUIN: PAIN AND PREJUDICE #5 (z 5)
W finale miniserii Gregga Hurwitza i Szymona Kudrańskiego, odkrywającej motywacje jednego z najbardziej osobliwych wrogów Batmana, pojawia się wątek ostatecznej zemsty. Życie dzieci z Gotham City wisi na włosku i Mroczny Rycerz będzie musiał się śpieszyć by je ocalić. Ale czy Batman uratuje je wszystkie?