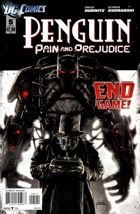 PENGUIN: PAIN AND PREJUDICE #5
Tytuł historii: Touch of Death
Miesiąc wydania (okładka): Kwiecień 2012 (USA)
W sprzedaży od: 08.02.2011 (USA)
Scenariusz: Gregg Hurwitz
Rysunki: Szymon Kudrański
Okładka: Szymon Kudrański
Kolor: John Kalisz
Liternictwo: Rob Leigh
Ilość stron: 32
Twoja ocena:

GD Star Rating
loading...
Podczas rozmowy z Pingwinem Cassandra zwraca mu uwagę, że przez ostatnie dni był jakby nieobecny. Oswald uspokaja swoją ukochaną i zapewnią ją, że w jego oczach jest piękna i że kocha jej odmienność. Nie zgadza się jednak by kobieta dotknęła jego twarzy. Rozmyślając o tym, co mu odebrano i jak się z niego śmiano złoczyńca postanawia znowu zagrać w swoją grę.
Gordon kontaktuje się z Batmana i przekazuje mu, że całe Gotham City jest zagrożone. Podążające za wystrzelonymi rakietami Pingwina stada ptaków sieją spustoszenie dosłownie wszędzie, ale co najgorsze głównie atakują dzieci.
Sterując rakietami Pingwin świetnie się bawi i żeby nie przeszkadzać Cassandrze wyłączył nawet dźwięk w swojej "grze".
Batman zamiast unieszkodliwiać pojedyncze rakiety od razu postanawia dorwać ich twórcę. Kiedy Pingwin orientuje się, że bohater Gotham City jest już blisko natychmiast ucieka wraz z Cassandrą. Nie wiedząc skąd te całe zamieszania kobieta przy sprzyjającej okazji dotyka twarzy Oslwada. Ten od razu się wścieka i ją uderza, a następnie jeszcze dźga ją śrubokrętem. Schylając się do ledwo szepczącej Cassandry Oswald słyszy jej ostatnie słowa: "Miałam rację… jesteś taki… przystojny".
Tymczasem Batman rozprawia się z ludźmi Pingwina i jest coraz bliżej złoczyńcy, który uruchamia różne swoje wymyśle urządzenia by odwlec to, co nieuniknione. Bohater dopada go i wyłącza stworzone przez Oswalda rakiety.
Zamknięty w celi w Blackgate Pingwin cały czas jest obiektem żartów, ale na pobliskich skałach powoli do więzienia zbliża się robot…
Z całej miniserii jest to numer, w którym mamy najwięcej akcji. Batman przedziera się przez kolejne pomieszczenia by dopaść Pingwina. Całe te sekwencje są praktycznie pozbawione dialogów, dzięki czemu pełną uwagę poświęca się mrocznym rysunkom Szymona Kudrańskiego.
Wydarzenia z Penguin: Pain and Prejudice #5 niczym specjalnym czytelnika jednak nie zaskakują. Śledząc kolejne ruchy Batmana wiemy jak to wszystko się skończy, dlatego o ile momenty nastawiona na akcję są przewidywalne, to o wiele ciekawej przedstawia się emocjonalna strona złoczyńcy. Chociaż jego związek z Cassandrą i jej wiara w podejrzanego typa, którego twarzy nigdy nie dotknęła, był momentami mocno naciągany, to pozwolił twórcom miniserii pokazać różne oblicza Pingwina, dzięki czemu złoczyńca ten stał się jeszcze bardziej interesujący i udowodnił, że skupienie całej uwagi na nim nie było błędem.
Ocena: 4 nietoperki

---