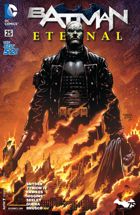 BATMAN ETERNAL #25
Tytuł historii: City of Whispers
W sprzedaży od: 24.09.2014 (USA)
Scenariusz: Scott Snyder, James Tynion IV, Ray Fawkes, Kyle Higgins i Tim Seeley
Rysunki: R.M. Guera
Okładka: Jayson Fabok, Brad Anderson
Kolor: Giulia Brusco
Liternictwo: Steve Wands
Ilość stron: 32
Twoja ocena:

GD Star Rating
loading...
Kiedy zamieszki rozprzestrzeniają się po całym Gotham City, czy Batman może zatrzymać marsz w kierunku stanu wojennego?
Jason Bard planuje wykorzystać media by wywrzeć wpływ na burmistrza i przekonać go do wprowadzenia stanu wojennego, po tym jak ten odmówił podjęcia odpowiednich działań. Chociaż początkowo Vicki Vale nie popiera obaw nowego komisarza, to ostatecznie zgadza się mu pomóc.
Po powrocie do Gotham Red Robin cały czas nie do końca dogaduje się z Harper, ale nie ma czasu by dłużej się nad tym zastanawiać, gdyż Jason chce się z nim spotkać. W szpitalu przy łóżku Alfreda Todd streszcza Timowi ostatnie wydarzenia z Gotham. Obaj dochodzą do wniosku, że ostatnie ataki mają podłoże osobiste, dlatego postanawiają, że potrzebne jest im wsparcie ze strony Barbary, gdyż teraz muszą trzymać się razem.
Podczas rozmowy z Julią Batman dowiaduje się, że to komisarz Bard jest odpowiedzialny za wypuszczenie z Blackgate Architekta. Bohater od razu chce się z nim rozliczyć. Jednak kiedy dociera do jego domu, to na miejscu zastaje tylko hologramowy obraz Husha, który wyjaśnia mu, że jeszcze nie jest gotowy na bezpośrednią konfrontacje. Rozmowa się przeciąga, aż Tommy detonuje bombę. W jaskini Julia od razu traci kontakt z Bruce'em, ale ku swojemu zaskoczeniu dostaje wiadomość od Red Robina, że "rodzina" jest już w drodze na miejsce eksplozji.
Wraz ze wzrostem zamieszek w mieście i ogólnego nastroju niepokoju burmistrz postanawia zgodnie z sugestią Barda ogłosić w Gotham City stan wojenny.
Z płonącego budynku wydostać się Batmanowi pomagają Red Robin, Batgirl i Red Hood.
Kolejny numer, w którym w gruncie rzeczy nie ma nic specjalnego. Dochodzi oczywiście do kilku istotnych wydarzeń, jak zjednoczenie Bat-rodziny, czy poznanie przez Batman prawdziwego oblicza Barda, ale cały czas jest to tylko wprowadzenie do czegoś większego. Wydawało się, że po tym jak Bruce dowie się, że Hush jest jego przeciwnika wszystko nabierze tempa, tak się jednak nie stało. Dobrze, że chociaż szybko przejrzana została podwójna gra Barda, ale o tym bohater mógł się domyślić wcześniej, skoro Gordon cały czas tkwi w więzieniu?. Po 25 numerach
Batman Eternal
co raz bardziej czuć, że momentami historie tracą tempo i tym samym, gdzieś ucieka również zainteresowanie, które tak skutecznie udało się rozbudzić w początkowych numerach.
Twórców należy jednak pochwalić za wprowadzenie odrobiny ożywienia i innego spojrzenia na działania Batmana, dzięki postaci Juli, która nie waha się skomentować obecności wielkiego mechanicznego dinozaura w jaskini. Takie zachowanie zdecydowanie zalicza się na plus dla córki Alfreda, która mimo narzekań całkiem sprawnie sobie radzi obsługując Bat-komputer, gdyby tylko scenarzyści zrezygnowali z używania kryptonimów w stylu Penny-Two.
Ocena: 3,5 nietoperka

---