GŁÓWNE INFORMACJE | ROZKŁAD PRELEKCJI | WARSZTATY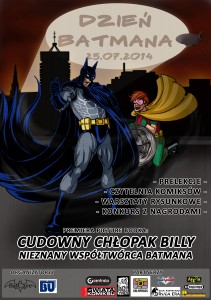 DZIEŃ BATMANA
Zlot miłośników postaci Mrocznego Rycerza
Miasto:
Poznań
Miejsce:
Biblioteka Uniwersytecka przy ulicy Ratajczaka 38/40
Data:
25.07.2014
Start:
12:00
Koniec:
19:00
Wydarzenie na Facebooku
Postać Batmana jest już z nami 75 lat. Po raz pierwszy pojawił się w 1939 roku w 27 numerze serii komiksowej "Detective Comics". Przez wiele lat jego wizerunek się zmieniał i gromadził fanów w każdym wieku. Obecnie komiksy z Batmanem są w ścisłej czołówce listy sprzedaży w USA, a adaptacje filmowe, czy gry komputerowe biją rekordy popularności na świecie.
Serwis BatCave wraz z Biblioteką Uniwersytecką w Poznaniu serdecznie zaprasza wszystkich fanów na specjalny dzień z okazji jubileuszu postaci Batmana. 25 lipca będzie pełen atrakcji dla sympatyków postaci Mrocznego Rycerza, w tym między innymi:
premiera polskiej edycji książki "Bill the Boy Wonder: The Secret Co-Creator of Batman" autorstwa Marca Tylera Noblemana, która opowiada pełną historię zapomnianego współtwórcy postaci Batmana,
seria prelekcji poświęcona najróżniejszej tematyce związanej z postacią Mrocznego Rycerza,
konkurs z atrakcyjnymi nagrodami,
specjalnie przygotowana czytelnia komiksów z Batmanem w roli głównej (listę dostępnych pozycji znajdziesz tu),
warsztaty rysunkowe dla dzieci i młodzieży,
stoiska sklepów z komiksami.
Dzień Batmana odbędzie się 25 lipca w Bibliotece Uniwersyteckiej przy ulicy Ratajczaka 38/40. Wstęp bezpłatny.
Przyjdź i przekonaj się jak Mroczny Rycerz zmienia życie ludzi w Gotham i na całym świecie.
Organizatorzy: Biblioteka Uniwersytecka, serwis BatCave
Współpraca i patroni: Egmont Polska, Mucha Comics, Centrala, Galapagos, Multiversum, OtherTees, Klub Fantastyki Druga Era, Aleja Komiksu, Radio Afera, DC Multiverse