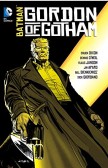 W minionym tygodniu, na naszej stronie ukazały się następujące aktualizacje:
1. Batman: Gordon of Gotham
Recenzja amerykańskiego komiksu wydanego w 2014 roku, zawierającego historie z przeszłości i teraźniejszości komisarza Gordona. Ale tylko w teorii, bo w praktyce są jeszcze detektywi Montoya i Bullock.
Kliknij tutaj, aby przeczytać
2. Batman Eternal #41
Nanoboty powracają. I robią to z wielkim hukiem. Takim na dwa nietoperki…
Kliknij tu, aby przeczytać
3. Gotham 1×12
Drugi odcinek serialu po przerwie i drugi, w którym nie ma Bruce'a, Alfreda lub nawet Seliny. Trochę szkoda, ale za to wątek Fish Mooney i Carmine'a Falcone'a nabiera rumieńców. No i na scenie pojawiają się nowe postaci, które mogą dużo namieszać w życiu Gordona.
Kliknij tutaj, aby przeczytać
Przypominamy także o akcji wspólnych życzeń dla Norma Breyfogle'a. Jest jeszcze czas, żeby napisać kilka miłych słów, a także wspomóc finansowo rehabilitację artysty. Wszystkie potrzebne informacje znajdziecie pod tym linkiem.