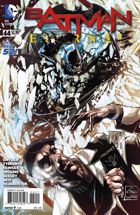 BATMAN ETERNAL #44
Tytuł historii: Spiral
W sprzedaży od: 04.02.2015 (USA)
Scenariusz: Scott Snyder, James Tynion IV, Ray Fawkes, Kyle Higgins i Tim Seeley
Rysunki: ACO
Okładka: Ethan Van Sciver, Marcelo Maiolo
Kolor: Romulo Fajardo jr.
Liternictwo: John J. Hill
Ilość stron: 32
Twoja ocena:

GD Star Rating
loading...
Jedna z nielicznych osób, które wiedzą co zdarzyło się w Arkham Asylum zamierza uciec z Gotham City… ale jeśli Batman dotrze do niej pierwszy to jej się nie uda!
Zatrzymani przez policje zbiedzy z Arkham wskazują na Achillesa Milo i to także nim teraz interesuje się Batman.
Tymczasem Luke Fox ma coraz poważniejsze problemy z duchami, które opanowały jego zbroję, dlatego dodaje do rękawicy specjalny metal.
Spoiler nie ma zamiaru dłużej ukrywać się w mieszkaniu Harper, która nic nie zrobiła w kwestii Wayne'a, dlatego sama postanawia działać. Row za pomocą paralizatora udaje się utemperować nadgorliwą bohaterkę.
Na lotnisku policjanci dostrzegają profesora Milo. Ten wypuszcza gaz z walizki, ale na miejscu zjawia się również Batman. Bohater najpierw musi uratować gliniarzy, którzy pod wpływem gazu zaczynają wariować, ale nawet ta przerwa nie powstrzymuje go przed dorwaniem Milo. Niestety także i on nie wie od kogo otrzymał specjalne zaproszenie, a co gorsza do starcia włącza się pewien duch.
Poprzedni numer serii oferował ważną informację. Niestety nie oznacza to, że i tym razem otrzymamy coś interesującego, albo że w ogóle wątek Wayne'a zostanie poruszony. Wydaje się, że Batman jeszcze nie wie kogo widziała Steph i zamiast tego ugania się za kolejnym mało znaczącym łotrem. Profesor Milo oczywiście nic nie wie, tak samo jak czytelnik, który może mieć coraz większe wątpliwości czy warto jeszcze śledzić kolejne numery, czy może poczekać tylko na ostatni? Co prawda wkrótce do rozgrywki włączy się Ra's al Ghul oraz powróci Hush, ale to wiemy z okładek. Kolejne historie nic bowiem nie wnoszą do całości i to okładki są najbardziej godne uwagi.
Batman Eternal #44 oferuje tylko akcję. Treści praktycznie brak, a i warstwa graficzne nie zachwyca. Jest to kolejny numer, który spokojnie może pominąć.
Ocena: 1,5 nietoperka

---