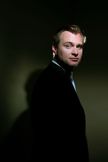 W interesującym artykułu na temat Christophera Nolana, który ukazał się w The Guardian, pojawiła się informacja, że reżyser nie zwolennikiem zabawnych scen po napisach końcowych. Warner Bros. chciało by wzorem komiksowych filmów Marvela tego typu scena znalazła się w "Man of Steel", ale Nolan pełniący obowiązki producenta wykonawczego nie zgodził się na to. Miał jakoby stwierdzić, że "prawdziwy film tego by nie zrobił". Szybko jednak pojawiło się sprostowanie ze strony reżysera, który w rozmowie z Buzzfeed stwierdził, że "nigdy nie powiedziałbym o czyimś filmie, że nie jest prawdziwy", dodał również, że cytat z The Guardian jest niedokładny.
Update:
The Guardian zamieścił sprostowanie dotyczące wypowiedzi Nolana, przytoczonej przez Zacka Snydera. Według Nolana, powiedział on Snyderowi, "Nie należy naśladować innych filmów, ale trzeba pozostać wiernym tonie Man of Steel".
Nie wiadomo, czy w przypadku budowanego filmowego uniwersum DC znajdą się sceny po napisach. Wcześniejsze plotki wspominały, że WB chce zamieszczać na końcu każdego filmu cliffhangery prowadzące do kolejnych produkcji ze wspólnego uniwersum oraz także przygotowywać krótkometrażówki o swoich mniej znanych bohaterach, które byłyby pokazywane po napisach końcowych.
Źródła: The Guardian, Buzzfeed