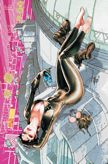 Na oficjalnym blogu DC Comics zamieszczono kolejną porcję informacji na temat odświeżonych Bat-tytułów. Tym razem skupiono się na takich seriach jak "Batwoman", "Batgirl", "Catwoman" i "Birds of Prey".
Za długo oczekiwaną serię "Batwoman" odpowiadać będą J.H. Williams III, Haden Blackman i Amy Reeder. W "Batgirl #1" Batgirl będzie musiała stawić czoła najbardziej przerażającym, nowym złoczyńcom Gotham, a także mrocznym sekretom ze swojej przeszłości. Scenariusz przygotuje Gail Simone, a za rysunki odpowiadać będą Ardian Syaf i Vicente Cifuentes.
Scenarzysta Judd Winick i rysownik Guillem March odpowiadać będą za "Catwoman".
Poznajcie Catwoman. Uzależnioną od nocy. Uzależnioną od błyszczących przedmiotów. Uzależnioną od Batmana. A przede wszystkim uzależnioną od niebezpieczeństwa. Catwoman nie może sama sobie pomóc – bo nie che. Jest bardzo dobra w byciu złą i bardzo zła w bycia dobrą.
Birds of Prey są zespołem od tajnych operacji, który zajmuje się złoczyńcami, których inni bohaterowie nie ruszają. Za "Birds of Prey" odpowiadać będą autor kryminałów i scenarzysta komiksów Duane Swierczynski i rysownik Jesus Saiz.