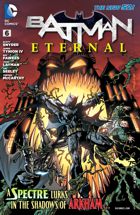 BATMAN ETERNAL #6
Tytuł historii: The Denied
W sprzedaży od: 14.05.2014 (USA)
Scenariusz: Scott Snyder, James Tynion IV, Ray Fawkes, John Layman i Tim Seeley
Rysunki: Trevor McCarthy
Okładka: Andy Kubert, Brad Anderson
Kolor: Guy Major
Tusz: Derek Fridolfs
Liternictwo: Taylor Esposito
Ilość stron: 32
Twoja ocena:

GD Star Rating
loading...
Coś diabelskiego kryje się w tunelach pod Arkham Asylum… i Batman będzie potrzebował pomocy Spectre by to powstrzymać.
Do Batwinga walczącego z Gentelman Ghostem, dołącza Batman, który pomaga młodemu bohaterowi pozbyć się innego typu złoczyńcy, przed którym żadne sensory nie ostrzegą. W międzyczasie Doctor Phosphorus przedziera się przez podziemia Arkham Asylum.
Po powrocie do rezydencji Bruce dowiaduje się od Alfreda, że ma gościa, Jima Corrigana, który już dawno temu jako Spectre poznał sekretną tożsamość Wayne'a. Corrigan ostrzega, że coś złego dzieje się w Arkham i że są w to zamieszane mistyczne siły. Batmana w tej chwili bardziej jednak martwią sprawy związane z walką gangów, ale nie zamiaru odpuszczać tej sprawy, dlatego postanawia wysłać na tę misję jednego ze swoich protegowanych.
W Arkham Asylum jeden z więźniów prowadzony jest do podziemi. Tam nie czeka go jednak terapia, ale spotkanie z Córką Jokera, która potrzebuje ochotników do mistycznego rytuału.
Luke Fox dostaje informację do Batmana by spotkał się z Corriganem w Arkham Asylum. Batwing zaznajomiony został z tym czego może się spodziewać po Spectre.
Kolejna eksplozja w Gotham przykuwa uwagę Batmana. Kiedy bohater pędzi Batmobilem na miejsce niespodziewanie zostaje zaatakowany przez Doctora Phosphorusa, którego ktoś nakierował wprost na bohatera.
Z
Batman Eternal
jest jeden zasadniczy problem. Nadmiar scenarzystów. Nie jest on odczuwalny, kiedy mamy numer duetu Snyder-Tynion IV, w którym reszta autorów pełni funkcje konsultantów do spraw scenariusza. W ten sposób mamy pewność, że wszystko będzie się w miarę zazębiać. Niestety kiedy tak jak w przypadku tego numeru głównym scenarzystą jest ktoś inny jak Ray Fawkes, wtedy gdzieś ginie to co przyciągnęło czytelników do serii. Niby cały czas mamy wojnę gangów w tle oraz kontynuację wcześniej zasygnalizowanych wątków, ale to nie jest to czego oczekujemy.
Zamiast gangsterskich potyczek i knowań na szczycie władzy dostajemy historię w której nie wiadomo czemu pojawia się Gentelman Ghost i która koncentruje się na klimatach nie z tego świata. Wszystko sprawia więc wrażenie oderwania od głównego wątku. Po 4 pierwszych numerach serii wydawało się, że wszystko zmierza w dobrym kierunku niestety, kiedy twórcy zaczynają skupiać się na innych obszarach zaplanowanej opowieści, to wszystko przestaje być interesujące. Za chwilę czytelnicy zapomną, że Gordon jest w więzieniu i jego życiu zagraża niebezpieczeństwo, czy też o kłopotach Stephanie. Jeśli jednak jesteście fanami różnych supernaturalnych opowieści, to ten numer jest dla was.
Warto też odnotować, że według pierwszych zapowiedzi w numerze Batman miał skorzystać z pomocy Demona Etrigana, ale ostatecznie zdecydowano się na Spectre.
Ocena: 3 nietoperki

---