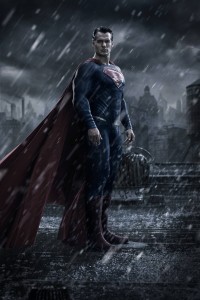 USA Today opublikowało dziś nową, oficjalną fotografię z "Batman v Superman: Dawn of Justice". Przedstawia ona Henry'ego Cavilla w roli Supermana. Aby zobaczyć fotografię w większej rozdzielczości, wystarczy kliknąć w miniaturkę lub ten link.
W artykule dowiadujemy się także kilku rzeczy na temat produkcji prosto od Zacka Snydera. "Man of Steel" opowiadało o tym, jak Kal-El odnajdywał swoje miejsce na Ziemi zarówno jako bohater, jak i zwykły człowiek, co ostatecznie doprowadziło do uratowania Metropolis od zagłady. W kontynuacji będziemy widzieć jego dalsze wtapianie się w społeczeństwo jako Clark Kent w Daily Planet, ale także spotka go zupełnie nowe środowisko – Gotham City – oraz dużo większe zagrożenie, w tym Lex Luthor. Ponadto, inni bohaterowie, których spotka Superman, wpłyną na jego spojrzenie na świat.
Snyder na początku nie myślał o dodaniu do filmu Batmana, gdyż chciał zająć się kiedyś swoją wymarzoną, bezpośrednią adaptacją "The Dark Knight Returns". Plan się oczywiście zmienił. Reżyser nie chciał skupić się na genezie jego nowego Batmana, gdyż uważa, że mitologia Mrocznego Rycerza jest tak bardzo obecna w świadomości odbiorców, że bez problemu mogą pokazać starszego, doświadczonego bohatera.
Dlaczego w tytule znalazło się "v" a nie "vs"? Reżyser chciał celowo uniknąć typowego zabiegu w użyciu wyrażenia versus, nawet w tak subtelny sposób.
Jakiś czas temu w sieci pojawiła się informacja, że Gal Gadot zakończyła już zdjęcia do filmu. Snyder zdradza, że aktorka nie nakręciła jeszcze żadnych scen w kostiumie, a w chwili obecnej nadal trenuje i przygotowuje się do roli Amazonki.