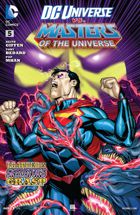 DC UNIVERSE VS. THE MASTERS OF THE UNIVERSE #5
Tytuł historii: Worlds Collide
Miesiąc wydania (okładka): Kwiecień 2014 (USA)
W sprzedaży od: 26.02.2014 (USA)
Scenariusz: Keith Giffen, Tony Bedard
Rysunki: Pop Mhan
Okładka: Bernard Chang
Kolor: Veronica Gandini, Tony Avina
Liternictwo: Deron Bennett
Ilość stron: 32
Twoja ocena:

GD Star Rating
loading...
Przeznaczenie Ziemi dopełni się w finałowej rozgrywce pomiędzy bohaterami DC, a Panami Wszechświata. Plus Tella i John Constantine podróżują do mrocznego wymiaru, aby uratować Supermana, oraz odkryć sposób na zdjęcie zaklęcia z ziemskich herosów.
Książę Adam, królowa Marlena, Tella i Evil-Lyn podkradają się do domu sekretów. W tym samym czasie Szkieletor jest gotowy do całkowitego przejęcia ziemskiej magii. Zakładniczka czarnoksiężnika, zwana Black Alice szybko traci siły. Zaoferowany całą sytuacją Szkieletor nie zauważa, że do domu wszedł Adam wraz z Evil–Lyn. Na intruzów zwraca uwagę Dark Orko i informuje o tym złoczyńcę, jednocześnie zdenerwowany jego rozkojarzeniem czarnoksiężnik rzuca potężny czar zniewolenia na całą planetę. Szkieletor uważa takie działanie za zdradę. Adam i Evil-Lyn wchodzą do domu. Gdy tylko chłopak odwraca się od czarownicy, ta strzela mu w plecy kulą energii, oznajmiając głośno, że ma dla Szkieletora prezent. W ostatniej chwili Szkieletor blokuje zdradziecki cios i ratuje bratanka od niechybnej śmierci. Adam jest zaskoczony tym posunięciem i nadal nie ufa swojemu największemu wrogowi. Wuj sugeruje mu aby sięgnął pamięcią do ich ostatniej potyczki na Etherni. Szkieletor próbował zdobyć potężny artefakt zwany czaszką Hordaka Prime. Hordak Prime, ojciec Hordaka, był twórcą potężnej armii. Wojsko to przed neonami budziło strach na obszarze całej Etherni. Po śmierci jego magiczna czaszka została ukryta w tajnym mauzoleum, wiele lat później świątynie odkrył Szkieletor. Jednak za nim na miejsce przybył He–Man, Orko chcąc udaremnić plany Szkieletora próbował ujarzmić potężną moc. Ciemna siła artefaktu zawładnęła małym czarodziejem, uwalniając całe zło uśpione w umyśle i duszy Orko i wypaczyła świat Troll z którego nieszczęśnik pochodzi. Szkieletor nie zdążył zapobiec tragedii, a moc czerepu Hordaka zmieniła jego dotychczasowy image i dała zdolność wglądu do świata Troll. He–Man pokonał tyrana, a czaszka zniknęła wraz z Orko.
Dark Orko pogrywa z Supermanem uwięzionym w świecie Troll. Czarnoksiężnik wyjawia ostatniemu synowi Kryptona źródło swojej mocy, a jest nim czaszka Hordaka Prime. Superman wolny od magicznych łańcuchów nie jest w stanie mierzyć się z wrogiem.
Szkieletor otwiera przejście do świata Troll i wpuszcza niepostrzeżenie do niego He-Mana, który ma za zadanie uwolnić Supermana i unieszkodliwić Dark Orko.
W tym samym czasie w Gotham herosi DC i przybysze z Etherni dochodzą do porozumienia. Batman wzywa wszystkich ziemskich bohaterów, aby stanęli do walki w obronie ziemi. Nie wie jednak, że jego apel słyszą także złoczyńcy, a to za sprawą czarów Dark Orko. Bohaterowie docierają do domu tajemnic. Przed próg wychodzi Szkieletor. Przybyli herosi szykują się do walki. Powstrzymuje ich królowa Marlena, cała sprawa zostaje wyjaśniona. Monstrum Frankensteina próbuje bezskutecznie zniszczyć jedno z dwunastu urządzeń wysysających magię. Niestety nawet Szkieletor ich nie kontroluje. Okazuje się że Mroczny Orko zabezpieczył magiczne urządzenia na wypadek prób ich zniszczenia i przejął nad nimi kontrolę. Rozmowę przerywa Dead Man informując, że dom tajemnic otoczyła armia opętanych mroczną magią herosów i złoczyńców.
Jest to niewątpliwie najlepszy zeszyt w całej mini-serii. Zbliżamy się nieuchronnie do końca opowieści. Zostają wyjaśnione wszystkie najważniejsze wątki prowadzące do przedstawionych wydarzeń. Poznajemy orgin Dark Orko. Evil–Lyn w końcu zdradza księcia Adama i chyba po raz pierwszy w historii komiksów ze świata Masters of Universe pozytywni bohaterowie muszą sprzymierzyć się ze Szkieletorem. Po za tym dobrze jest zobaczyć w retrospekcjach tego złoczyńcę w jego klasycznej formie. Scenarzyści całkiem zręcznie wpletli w fabułę wątki z komiksów He–Man and The Masters of Universe. W następnym zeszycie czeka nas epicka bitwa wszystkich ze wszystkimi.
Ocena: 4,5 nietoperka

---