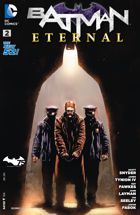 BATMAN ETERNAL #2
Tytuł historii: Batman Eternal, Part 2
W sprzedaży od: 16.04.2014 (USA)
Scenariusz: Scott Snyder, James Tynion IV, Ray Fawkes, John Layman i Tim Seeley
Rysunki: Jason Fabok
Okładka: Jason Fabok, Tomeu Morey
Kolor: Brad Anderson
Liternictwo: Nick J. Napolitano
Ilość stron: 32
Twoja ocena:

GD Star Rating
loading...
Osławiony przeciwnik Batmana po raz pierwszy pojawia się The New 52!
Dziennikarze, w tym Vicki Vale nie wierzą by Gordon mógłby być odpowiedzialny za katastrofę, ale ich szef nie ma zamiaru dłużej zwlekać. Gotham Gazzete jako pierwsza informuje o aresztowaniu komisarza. Wiadomości szybko docierają do sojuszników Batmana: Batgirl, Harper Row, Red Hooda, Foxa, Batwoman i Red Robina.
Zamknięty w celi Jim w rozmowie z Batmanem zaczyna wątpić w siebie. Podejrzewa, że może jest już po prostu za stary do tej roboty i dlatego popełnił tak tragiczny błąd. Batman zaś uważa, że za całą sprawą może się kryć coś znacznie bardziej poważniejszego.
Tymczasem na dachu ratusza burmistrz spotyka się z tajemniczym przyjacielem, który pomógł mu wygrać wybory, a teraz zamierza wykorzystać sprzyjające okoliczności, by przywrócić Gotham do okresu, w którym nie było zamaskowanych mścicieli.
Na miejscu katastrofy zjawia się tajemniczy mężczyzna o zielonych oczach, który zauważony zostaje przez policjantkę Nancy Strode. Wie, że w Gotham są miejsca w których grasuje jeszcze większe zło, ale teraz ma zamiar przyjrzeć się tej katastrofie, a dzięki swoim zdolnościom sprawia, że policjantka zapomina, że w ogóle go widziała.
W Arkham Asylum Doctor Phosphorous jest strasznie przerażony i wykrzykuje, że ktoś nadchodzi. Personel nie przykłada jednak większej wagi do jego słów. Nikt też nie jest wstanie go uratować przed Blackfire'em.
W budynku MTA Batman przegląda nagrania z kamer by mieć jak najwięcej informacji z ostatnich wydarzeń. Na miejscu zjawa się niespodziewanie Catwoman. Chociaż próbuje zwrócić na siebie uwagę Burce'a, to ten jest zbyt pochłonięty sprawą Jima. Na nagraniach odkrywa coś, co wprawia go w osłupienie.
Batman postanawia od razu działać, jednak Catwoman nie ma zamiaru odpuszczać, i wreszcie bohater wyjawia jej, że Carmine "Rzymianin" Falcone wrócił do Gotham po tym jak Nietoperzowi i Gordonowi udało się go zmusić do opuszczenia miasta. Co gorsza to on jest tajemniczym sojusznikiem burmistrza o czym Batman jeszcze nie wie.
W Gotham City nadchodzi czas zmian i nie będą to zmiany na lepsze. Po 2. numerze
Batman Eternal
z pełną odpowiedzialnością można stwierdzić, że każdy fan Batmana powinien w niej znaleźć coś dla siebie. Nie zabrakło elementów korupcji otaczającej świat polityki połączony ze zorganizowaną przestępczością oraz bardziej nadnaturalnych zdarzeń związanych z obecnością takich bohaterów jak Spectre, czy Blackfire. W całej tej akcji twórcy znaleźli również czas na kilka wspólnych momentów pomiędzy Batmanem i Catwoman.
Cały czas jesteśmy na początku serii i co prawda można się przyczepić, że niektórzy bohaterowie pojawiają się tylko po to by pokazać czytelnikowi, że gdzieś tam są, to wiedząc, że opowiedziana historia rozegra się na przestrzeni 52 numerów wiadomo, że każda z postaci dostanie jeszcze szansę na zabłyśnięcie. W tym numerze wejście godne szefa mafii otrzymał Rzymianin, dla którego jest to debiut w New 52, a to dopiero pierwsza z takich niespodzianek.
Ocena: 4,5 nietoperka

---