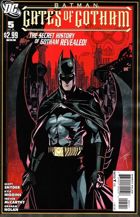 BATMAN: GATES OF GOTHAM #5
Tytuł historii: Part Five, Welcome to the Future
Miesiąc wydania (okładka): Późny październik 2011 (USA)
W sprzedaży od: 25.08.2011 (USA)
Scenariusz: Scott Snyder, Kyle Higgins i Ryan Parrott
Rysunki: Trevor McCarthy
Okładki: Trevor McCarthy; Dustin Nguyen
Kolor: Guy Major
Tła: Graham Nolan
Liternictwo: Jared K. Fletcher
Ilość stron: 32
Twoja ocena:

GD Star Rating
loading...
Dick odnajduje Architecta, czyli Dillona Maya, kolekcjonera, który był w posiadaniu stroju nurka zaprojektowanego przez Gate'ów, na moście Kane'a. Chce mu wyjaśnić, że obwinianie największych rodzin Gotham za zdradę przodków jest błędem.
Podczas gdy Batman walczy z Architectem, Black Bat i Robin współpracują razem nad rozbrojeniem ładunków mających wysadzić most w powietrze. Po tym jak im się udaje, przy wykorzystaniu Batboat, zdetonować ładunki na powierzchni, Dick dopada swojego przeciwnika i wyjaśnia mu, dlaczego ten jest w błędzie.
Stroje nurków zaprojektowane przez Gate'ów były wadliwe. Długotrwałe przebywanie w nich pod wodą spowodowało u braci wystąpienie choroby dekompresyjnej. Jej objawy, takie jak halucynacje, złudzenia i paranoja przemieniły kochającego rodzinę Nicholasa w mordercę. Największe rodziny Gotham City nie zniszczyły Gate'ów, ale zatuszowali całą sprawę, tak by każdy patrząc na Gotham nie widział w budynkach zaprojektowanych przez braci szaleństwa i morderstw. Po zabójstwie Roberta Kane'a wcale nie zabrano go do więzienia, ale do Azylu Arkham, co potwierdza notka na dzienniku Nicholasa.
Dillon, który już do dłuższego czasu nosi wadliwy strój nurka nie wierzy w słowa Batmana, ale bohater szybko go nokautuje, po tym jak zdejmuje hełm jego stroju.
Później w rozmowie z Timem Cass przyznaje, że zawsze lubiła to w Gotham City. Dick natomiast przekazuje sprawozdanie Bruce'owi. Okazało się, że Dillon, który trafił do Arkham, naprawdę nazywał się Zachary Gate i był ostatnim potomkiem rodziny architektów, która zaprojektowała nowe Gotham. Kiedy rozmowa schodzi na temat bycia przez Graysona Batmanem, Wayne stwierdza, że porozmawiają o tym kiedy wróci do miasta.
Gotham City, rok 1889. Alan Wayne zamkniętemu w Arkham Gate'owi wręcza dziennik, który wiele lat później sprawił, że narodził się Architect. Po wyjściu za bramy zakładu Alan spotyka się z Cameronem Kane'em, który nie udziela mu jasnej odpowiedzi na pytanie, czy miał coś wspólnego ze śmiercią brata Nicholasa.
Batman: Gates of Gotham kończy się naprawdę dobrze. Chociaż ostatni numer skupił się bardziej na akcji I wydarzeniach z teraźniejszości, to wszystkie wątki udało się dobrze wyjaśnić. Jak można byłoby się spodziewać tajemniczym Architectem był potomek rodziny Gate'ów.
Ostatnie strony numeru to już po części wprowadzenie pewnych sygnałów dotyczących zmian jakie zajdą w uniwersum Batman. Otrzymaliśmy, więc rozmowę Dicka z Bruce'em, który zasugerował , będzie musiał z nim porozmawiać na temat bycia Batmanem, a także sugestie, że Cass na dłużej zostanie w Gotham.
Historia z Batman: Gates of Gotham łączyła w sobie przeszłość i teraźniejszość Gotham City. Jak się okazało wydarzenia z przed lat nie pozostały bez wpływy na obecne Gotham i wygląda na to, że historia miasta skrywa jeszcze wiele sekretów. O czym najlepiej świadczy kończąca numer wypowiedź Camerona Kane'a i wydaje się, że do pewnych spraw Snyder jeszcze powróci w innych historiach z Batmanem.
Ocena: 4,5 nietoperka

---