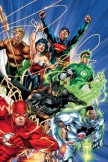 Serwis World's Finest opublikował główną obsadę animowanego filmu "Justice League: War". W poszczególnych bohaterów wcielą się:
– Jason O'Mara (m. in. "In Justice", "Life on Mars", "Terra Nova" i "Vegas") jako Batman,
– Alan Tudyk (m. in. "Firefly", "Serenity", wystąpił też jako Green Arrow w "Young Justice" i "Injustice: Gods Among Us") jako Superman,
– Michelle Monaghan (m. in.  "Mission: Impossible III", "Mission: Impossible – Ghost Protocol", "Kiss Kiss Bang Bang") jako Wonder Woman,
– Justin Kirk (m. in. "Angels in America", "Weeds") jako Green Lantern,
– Christopher Gorham (m. in. "Ugly Betty", "Popular", "Odyssey 5") jako The Flash,
– Shemar Moore (m. in. "The Young and the Restless", "Criminal Mind", "Birds of Prey") jako Cyborg.
Animacja zostanie wyreżyserowana przez Jaya Oliva, a scenariuszem będącym adaptacją historii Geoffa Johnsa zajmie się Heath Corson. Więcej informacji na temat animacji z serii DC Universe Animated Original Movies dowiemy się ze zbliżającego się Comic-Conu.
DC Comics udostępniło również trailer do dokumentu poświęconego złoczyńcom z ich wydawnictwa. Jego premiera na DVD i Blu-Ray w USA nastąpi 25 października.