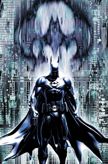 Na oficjalnym blogu DC Comics można już obejrzeć alternatywną okładkę autorstwa Scotta Clarka "Batman Incorporated #8". Numer do sprzedaży w USA ma trafić latem.
Pod tym adresem można dostępna jest natomiast alternatywną okładką autorstwa Dustina Nguyena do "Batman: Gates of Gotham #3":
To jest to, Batman i Red Robin vs. The Architect. Plus kim jest Nicholas Anders? Bohaterowie kontynuują swoje śledztwo w sprawie tajemniczego mężczyzny z przełomu XX wieku, ale to co odkryją może zmienić całą ich wiedzę na temat samego miasta!