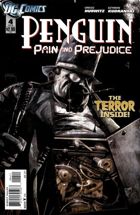 PENGUIN: PAIN AND PREJUDICE #4
Tytuł historii: Practice Run
Miesiąc wydania (okładka): Marzec 2012 (USA)
W sprzedaży od: 04.01.2011 (USA)
Scenariusz: Gregg Hurwitz
Rysunki: Szymon Kudrański
Okładka: Szymon Kudrański
Kolor: John Kalisz
Liternictwo: Rob Leigh
Ilość stron: 32
Twoja ocena:

GD Star Rating
loading...
Batman odwiedza pracujących dla Pingwina bandytów. Rozprawia się z nimi w dość brutalny sposób i uzyskuje kilka cennych informacji. Następnie pozostawia ich zawieszonych na latarni przy bramie do posiadłości Oswalda. Na miejscu zjawia się policja oraz reporterzy. Oswald zostaje aresztowany, a Cassandrze zostaje odebrany skradziony pierścionek.
Pingwin nie na długo zostaje zatrzymany na komisariacie. Nie przyznaje się do niczego, a jego prawnicy szybko sprawiają, że zostaje wypuszczony na wolność. Oswald od razu udaje się do domu swojej matki. Obecność Cassandry nie pomaga mu, a on sam postanawia wykorzystać swoje techniczne umiejętności, by wreszcie sprawić by już nikt nigdy się z niego nie śmiał.
Wieczorem podczas wizyty Oswalda i Cassandry w operze, Batman na chwile porywa niewidomą kobietę by przekonać ją, że jej narzeczony to naprawdę zły człowiek.
Później Batman spotyka się z Gordonem. Przyglądnął się sprawie Ricka i wie, że ten w dniu, kiedy próbował popełnić samobójstwo był w Iceberg Lounge by sprzedawać ectasy. Tym samym bohater stwierdza, że ostatnio zaczynają przeciągać granicę pomiędzy dobrem i złem.
Okazuje się, że Pingwin skonstruował rakietę, za którą podążają stada ptaków. Kiedy rakieta zmierza w kierunku jednej ze szkół Batmanowi z wielkim trudem udaje się ją unieszkodliwić. I chociaż wszystko skazuje, że jest to sprawka Pingwina, to bohater nie ma na to żadnych dowodów. Mimo to obiecuje Oswaldowi, że je znajdzie. Nie wie jednak, że w zanadrzu złoczyńca ma cały arsenał pingwinich rakiet.
Początek numeru jest jeszcze dobry. Batman wkracza do akcji i wydaje się, że koniec Pingwina jest już bliski. Brak jednak niezbitych dowód sprawia, że złoczyńca nie zostaje aresztowany. Jego duma zostaje zaś mocno nadszarpnięta. I znowu biedny, pokrzywdzony Oswald postanawia się zemścić. Jaki jest najlepszy sposób by tego dokonać? Zbudować rakietę, która przyciągnie stada ptaków…
Z jednej strony Hurwitz cały czas buduje napięcie pokazując Oswalda w różnych sytuacjach. Co najlepiej obrazuje scena przesłuchania, w której to złoczyńca pozwala sobie na gierkę z policjantami, stwierdzając, że wcale nie jest gorszy od dziedziczki fortuny, wypracowanej niewolniczą pracą, czy bankiera, który dopuścił się kreatywnej księgowości. Z drugiej zaś mamy genialnego Oswalda, który raz dwa buduje rakietę. Takie rzeczy to przegięcie i przez to coraz bardziej widoczne są wszystkie bezsensowne elementy tej historii. Czemu Cassandra cały czas jest z Oswaldem? Czemu nie żąda od niego żadnych wyjaśnień. Czyżby cały czas nie zdawała sobie sprawy kim jest naprawdę Pingwin? Takich wątpliwości pojawia się coraz więcej, a końcówka sprawia, że gdzieś kompletnie zniknęła historia o Oswaldzie, który stał się bezwzględnym złoczyńcą. Zamiast tego otrzymujemy łotra, który cały czas ma kompleksy i nie potrafi sobie z nimi poradzić. Co gorsza również Batman ma wiele problemów by wpakować Oswadla za kratki.
Jest to zdecydowanie najsłabszy numer z miniserii i kierunek obrany przez Hurwitza sugeruje, że samo zakończenie nie będzie tak dobre jak można się było spodziewać po pierwszych numerach.
Ocena: 3,5 nietoperka

---