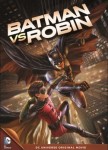 W sieci pojawiła się lista aktorów, którzy wystąpią w najnowszej animacji "Batman versus Robin" (premiera tej wiosny). Swoje role powtórzą aktorzy z "Son of Batman" – Jason O'Mara, Stuart Allan, Sean Maher oraz David McCallum kolejno powrócą jako Batman, Damian Wayne, Nightwing oraz Alfred. Do grona obsady dołączyli Jeremy Sisto (Szpon, zabójca Trybunału Sów), Grey DeLisle (Samantha), "Weird Al" Yankovic (Dollmaker), Robin Atkin Downes (Grandmaster) oraz Peter Onorati (Draco).
W animacji wystąpi także Kevin Conroy. Aktor znany z użyczenia głosu Batmanowi w "Batman: The Animated Series" i wielu innych produkcjach wcieli się tym razem w Thomasa Wayne'a.
Reżyserem "Batman versus Robin" został Jay Oliva. Scenariusz napisał J.M. DeMatteis (znany z pracy nad komiksami, czy serialami animowanymi), a rolę producenta filmu przyjął James Tucker.
Źródło: The Hollywood Reporter