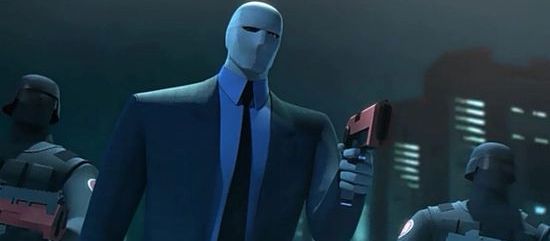 Tytuł odcinka:
"TWIST"
Data premiery:
16 kwietnia 2014
Reżyseria:
Sam Liu
Scenariusz:
Mark Banker
Twoja ocena:
GD Star Rating
loading...
Obsada:
Anthony Ruivivar
Sumalee Montano
J.B. Blanc
Kurtwood Smith
Christopher McDonald
Robin Atkin Downes
Wallace Langham
Beth Tapper
James Patrick Stuart
Batman/Bruce Wayne
Tatsu Yamashiro/Katana, Madison Randall
Alfred Pennyworth, batkomputer, Key
James Gordon
Harvey Dent
Slade Wilson/Deathstroke
Anarky
Jocelyn Kilroy
David Hull, najemnik
Batman dalej pracuje w ukryciu by znaleźć odpowiedzi, podczas gdy Harvey Dent dochodzi do siebie w szpitalu. O wszystko obwinia Batmana i uchwala stan wojenny w Gotham.
Po odkryciu z poprzedniego odcinka bohaterom udaje się złożyć wszystkie kawałki układanki. Szybciej zapewne zrobili to widzowie, bo jeśli nie obca jest im postać Deathstroke'a, to pewnie już wszyscy się domyśleli, że to on krył się po imieniem Dane Lisslow, które jest anagramem "Slade Wilson". Bohaterowie potrzebowali na to znacznie więcej czasu oraz informacji od Keya, który specjalizuje się także w tworzeniu fałszywych tożsamości. Swoją krucjatę przeciwko Batmanowi kontynuuje też cały czas Harvey Dent.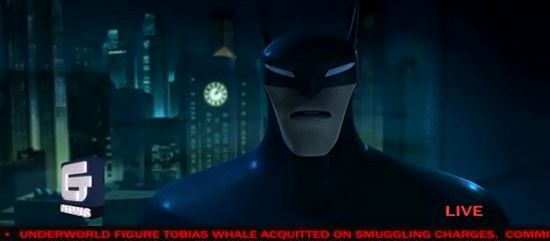 Postać Denta po wypadku nie jest bardziej interesująca. Nawet nie mamy okazji zobaczenia jego drugiej twarzy. Cały czas nosi bandaż i bardziej przypomina Husha niż Two-Face'a. Na dodatek jako, że wcześniej nie była to sympatyczna postać, to jego zamiana w zachowaniu nie jest tak drastyczna, po prostu przestał mieć zahamowania i okazuje się, że wystarczy pogrozić politykom z pomocą Anarky'ego i ci zrobią co się chcę. Ciekawe dlaczego inni przestępcy pokroju Tobiasa Whale'a wcześniej tego nie wypróbowali?
Jedyny zwrot akcji godny uwagi to ten dotyczący wspólnej przeszłości Alfreda i Slade'a. Niestety scenarzyści postanowili też w ten sposób umotywować działania Deathstroke'a, który chciałby zrobić wrażenie na partnerze przez którego wyleciał z CIA. O ile sam plan Slade'a i jego przygotowania zrobiły wrażenie, to już powód dla którego to robi jest rozczarowujący.
Końcówka odcinka to wielki cliffhanger, ale chyba nikt nie sądzi, by któryś z bohaterów miał zginąć.
Ocena: 4 nietoperki

---
CIEKAWOSTKI I UWAGI:
Odcinek swoją premierę miał w Wielkiej Brytanii 16 kwietnia 2014 roku w ramach usługi Prime Instant Video od Amazon.
CYTATY:

Jocelyn Kilroy: Dent? Have you lost your mind?
Harvey: Lost it? On the contrary, I feel like I've finally found it.
David Hull: Harvey, I… I can't do that.
Harvey: You can do it, and you will. I consider you a friend, David. Don't make me change my minds.
Harvey: People change, my friend. Take me. I'm a whole new man. And then some.

---
---