---


Spotkania Komiksowe to poznańska inicjatywa, która wystartowała w 2010 roku. Podczas nich omawiane są najróżniejsze tematy komiksowe oraz pojawiają się goście – scenarzyści, rysownicy, wydawcy i inne osoby związane z historyjkami obrazkowymi. 25 października 2012 roku odbyło się pierwsze Spotkanie Komiksowe trzeciego już sezonu. Gościem był Mateusz Skutnik, jeden z czołowych przedstawicieli polskiego komiksu, autor m.in. "Rewolucji", "Morfołaków" czy "Pana Blakiego". Samo wydarzenie odbyło się tym razem w Centrum Kultury "Zamek" (wcześniej Spotkania Komiksowe prowadzone były w Wyższej Szkole Języków Obcych).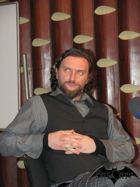 Przez ponad dwie godziny goście mogli dowiedzieć się wiele szczegółów na temat twórczości autora "Rewolucji". Jak sam wspomniał na spotkaniu, nie udziela wywiadów związanych z jego twórczością komiksową, zatem była to idealna okazja, aby zadać jak najwięcej pytań dotyczących tej dziedziny twórczości. Prowadzący spotkania nie zapomniał także przepytać Skutnika na temat jego gier, które tworzy w założonym przez siebie studio Pastel Games.
Rozmowa schodziła także na inne tematy. Kilka chwil poświęcono polskiemu środowisku komiksowemu, czy też różnego rodzaju "ulepszeniom" komiksu takich jak dodawanie dźwięku bądź szczątkowej animacji. Skutnik nie jest przychylny tego typu rzeczom i stwierdził, że dla niego komiks powinien być zdecydowanie niemy, a najlepiej jeszcze rysowany wyłącznie ręcznie. W trakcie spotkania wielokrotnie wspominano także ilustrację tygrysa z najnowszego tomu "Rewolucji" ("Rewolucje: We mgle"), która wywołała sporo emocji wśród czytelników.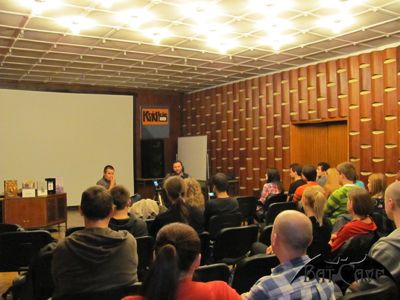 Uczestnicy dopisali, gdyż żywo brali udział w dyskusji i zadawali pytania. Sam też postanowiłem skorzystać z okazji i spytałem, czy jest szansa na kolejne "Rewolucje" w następnych tomach magazynu komiksowego "Profanum". Skutnik nie miałby nic przeciwko, ale wszystko zależy od decyzji redaktora, czyli Roberta Sienickiego. Zatem, drogi Robercie – ładnie prosimy!
Po spotkaniu autor wraz z uczestnikami odbyli króciutką podróż do sklepu komiksowego KiK, gdzie odbyła się sesja autografów. Z której oczywiście też skorzystałem.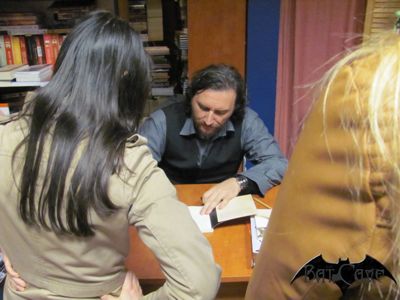 Nowa lokacja Spotkań Komiksowych to zdecydowanie strzał w dziesiątkę. Więcej przestrzeni i nieograniczony czas trwania to kolejne dodatki do i tak już bardzo dobrze organizowanej inicjatywy. Nie pozostaje mi nic innego, jak zachęcić wszystkich, aby sami się o tym przekonali. A w niedalekiej przyszłości fani Batmana znajdą ponownie na spotkaniach coś dla siebie.