---
BATMAN: THE BRAVE AND THE BOLD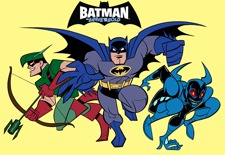 Jesienią 2008 roku na kanale Cartoon Network zadebiutował kolejny serial animowany traktujący o losach Mrocznego Rycerza z Gotham City. W
Batman: The Brave and The Bold
Batman współpracuje z innymi bohaterami z uniwersum DC. Wraz z m.in. Zieloną Strzałą (Green Arrow), Błękitnym Żukiem (Blue Beetle) i Aquamanem walczy z wymyślnymi złoczyńcami, którzy zagrażają jego miastu i nie tylko. Chociaż nowe przygody rozgrywają się głównie w Gotham City, to Nietoperz też często zmuszony jest działać poza jego granicami. W serialu główny nacisk położony został na elementy komediowe, a tytułowy bohater wciąż jest tym samym "gburowatym profesjonalistą", który dla zaprowadzenia porządku wykorzystuje swoją siłę, pomysłowość i bezgraniczne zasoby niesamowitych gadżetów. Nie brakuje też wartkiej akcji, która w niczym nie ustępuje tej z porzednich kreskówek z Batmanem. Prezentowane z przymróżeniem oka fabuły obfitują w wątki, w których ukazano zależności łączące głównego bohatera z niektórymi członkami Ligi Sprawiedliwych jak również ich wspólne początki. W każdym odcinku Mroczny Rycerz łączy swoje siły z dwójką lub większą grupą innych herosów, aby stawić czoło zbrodni lub też unieszkodzliwić superłotra.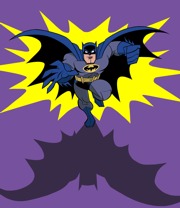 Batman: The Brave and The Bold
w przeciwieństwie do swoich poprzedników ma dużo lżejszy klimat, zbliżający go do serialu telewizyjnego z Adamem Westem. Twórcy jednak nie boją się poruszać od czasu do czasu poważnych tematów jak chociażby śmierci, czy morderstwa. W opowiedzianych ze sporą dawką humoru przygodach Batmanowi towarzyszą celowo mniej popularni, lecz zróżnicowani bohaterowie DC Comics, z którymi w latach 70. ten spotykał się w komiksowym pierwowzorze. Nie brakuje za to klasycznych antagonistów ze świata Człowieka-Nietoperza. Pierwsza wyemitowana seria odcinków liczy sobie 26 półgodzinnych odsłon, które pojawiały się w cotygodniowych odstępach w każdy piątek. Za produkcję serialu odpowiadają James Tucker i Linda M. Steiner. Obowiązki producenta wykonawczego przypadły Samowi Registerowi. Reżyserią podjeli się Ben Jones, Brandon Vietti i Michael Chang, a nad redagowaniem opowiadanych historii czuwa wschodząca gwiazda Warner Bros. Michael Jelenic. W roli Batmana usłyszymy Diedricha Badera (
The Drew Carey Show
), który ma już na koncie występy w dwóch wcześniejszych serialach o Batmanie. W
The Batman
mówił głosem postaci Shadow Thief, a w
Batman Beyond
wcielił się w robota Zetę.
W Batman: The Brave and The Bold zadebiutowała nowa wersja loga Warner Bros. Animation ze stylizowanym na lata 40. Królikiem Bugsem.

Batman: The Brave and the Bold
(USA, 2008-2009)
Tytuły polskie: Batman: Odważni i bezwzględni
Premiera pierwszego odcinka: 14 listopada 2008
Po raz pierwszy wyemitowany przez: Cartoon Network
Oficjalna polska strona: Galapagos.com.pl
Producenci:
Michael Jelenic, Linda Steiner, James Tucker
Producent wykonawczy:
Sam Register
Reżyserzy:
Ben Jones, Brandon Vietti, Michael Chang
Scenarzyści:
Todd Casey, Jack Cole, Joseph Kuhr, Steven Melching i inni
Muzyka:
Kristopher Carter, Michael McCuistion, Lolita Ritmanis
Casting:
Andrea Romano
Serial wyprodukowany przez: Warner Bros. Animation, Inc.
Dystrybucja: Cartoon Network
Animacja: Lotto Animation, Digital eMation, Dong Woo Animation,
Moi Animation

Obsada: Diedrich Bader, John DiMaggio, James Arnold Taylor, Will Friedle, Corey Burton, Tom Kenny, Jeff Bennett, Phil Morris, Edoardo Ballerini, Greg Ellis