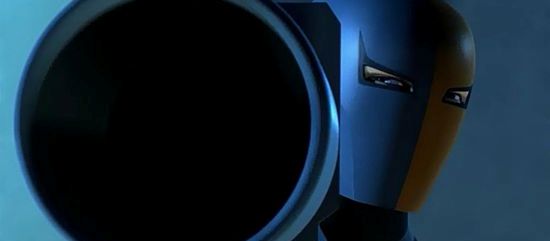 Tytuł odcinka:
"ALONE"
Data premiery:
16 kwietnia 2014
Reżyseria:
Rick Morales
Scenariusz:
Mitch Watson
Twoja ocena:
GD Star Rating
loading...
Obsada:
Anthony Ruivivar
Sumalee Montano
J.B. Blanc
Tara Strong
Robin Atkin Downes
Christopher McDonald
Adam Baldwin
Wallace Langham
Kurtwood Smith
Batman/Bruce Wayne
Tatsu Yamashiro/Katana
Alfred Pennyworth, batkomputer
Barbara Gordon/Oracle
Slade Wilson/Deathstroke, Kirk Langstrom/Man-Bat
Harvey Dent/Two-Face
Rex Mason/Metamorpho
Anarky
James Gordon
Kiedy Alfred zostaje wzięty w jaskini na zakładnika przez Deathstroke'a, Batman musi samemu się z nim zmierzyć. Harvey Dent odsłania swoją prawdziwą naturę jako Dwie Twarze.
Koniec 1. sezonu Beware the Batman to zarazem ostatni odcinek serialu. Produkcja ta miała pokazać nowe spojrzenie na postać Mrocznego Rycerza oraz zaprezentować złoczyńców, którzy wcześniej w serialach animowanych się nie pojawili. Nie do końca udało się spełnić te obietnice. Alfred jako ex-agent służb specjalnych sprawdził się, pozwoliło to także na interesujące powiązania pomiędzy poszczególnymi postaciami w tym Slade'em Wilsonem. Niestety mniej znani złoczyńcy jak Pyg i Toad, czy też Anarky okazali się kompletnie nietrafionymi pomysłami. Nawet tak sprawdzony złoczyńca jak Two-Face nie przekonał mnie do siebie. Lepiej w tej sytuacji prezentuje się Deathstroke, którego postać w ostatnim czasie z powodzeniem sprawdziła się w telewizji oraz grze komputerowej.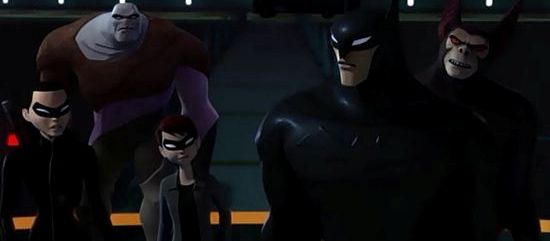 Fabuła
Alone
to przede wszystkim ostateczne starcie pomiędzy Slade'em i Bruce'em. Wszystko miałoby jeszcze sens, gdyby było to lepiej umotywowane, a tak nie jest. Akcji nie brakuje i włączają się do niej także sojusznicy Batmana, czyli Metamorpho i Man-Bat. Bohater zaczynał swoją walkę ze zbrodnią w samotności, a teraz może liczyć na solidne wsparcie. Całość wypadła by lepiej gdyby nie pomysł jak rozwiązać problem, że Slade zna sekret Bruce'a. Nawet gdyby zamknęli go w więzieniu i ten komuś by go wygadał, to przecież Bruce Wayne mógłby przygotować jakieś sensowne rozwiązanie tej sytuacji, poza tym od kiedy to ufa się we wszystko co mówią zawodowi mordercy? Wayne powinien bardziej się martwić jak wytłumaczy, że żyje.
Gdzieś w tle całego odcinka są postacie Anarky'ego oraz Two-Face'a, który już w pełni staje się złoczyńcą. Bynajmniej nie oznacza to, że zobaczyliśmy jego twarz. Nie. Okazało się natomiast, że Anarky ucieka przed Gordonem i Dentem, a Batman przez tyle czasu nie mógł go pokonać.
Jedną z zalet serialu było, to że poszczególne odcinki tworzyły większą całość, co zaprocentowało w drugiej połowie sezonu. Chciało się śledzić całą opowieść. Jednak jest to zarazem wada, kiedy okazuje się, że twórcy mieli jeszcze pomysły na kolejne odcinki, ale już nie dane im było je zrealizować i pewne wątki zostały niedokończone. W ten sposób takie potraktowanie postaci Two-Face'a jest bardzo rozczarowujące. Mimo to, nie dziwi fakt, że nie powstał 2. sezon. Skoro tak dobry serial jak Young Justice doczekał się tylko 2 sezonów, to Beware the Batman zdecydowanie nie zasłużył na kontynuację. Przez cały sezon nie udało się poprawić animacji, którą uznać można najwyżej tylko za poprawną. CGI Batman się nie sprawdził. Kilka pomysłów fabularnych już tak, aczkolwiek cała produkcja, mimo dobrej końcówki nie spełniła oczekiwań, ani pod względem jakości ani pod względem sprzedaży zabawek itp. produktów od których przede wszystkim zależy czy dany serial animowany utrzyma się w ramówce.
Ocena: 4 nietoperki

---
CIEKAWOSTKI I UWAGI:
Odcinek swoją premierę miał w Wielkiej Brytanii 16 kwietnia 2014 roku w ramach usługi Prime Instant Video od Amazon.
CYTATY:

Anarky: I'm disappointed. I thought we were cohorts. Collaborators. Partners!
Harvey: Two's a partnership. Three's a liability.
Anarky: "Three"? It appears we're not only parting ways, but minds as well.
Deathstroke: Your sons have come home, Alfred. One a hero, one a villain. And tonight… you're going to watch a son die.
Deathstroke: That detonator has a sixteen-digit kill code. Only I can stop the timer.
Batman: Then I'll just have to convince you.
Metamorpho: (w jaskini Batmana) Nice pad.
Man Bat: This is my second time here.
Metamorpho: Well, aren't you special.

---
---