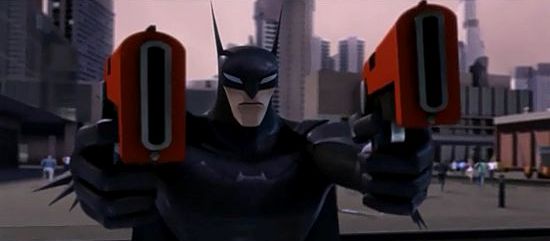 Tytuł odcinka:
"EPITAPH"
Data premiery:
16 kwietnia 2014
Reżyseria:
Curt Geda
Scenariusz:
Mitch Watson
Twoja ocena:
GD Star Rating
loading...
Obsada:
Anthony Ruivivar
Sumalee Montano
J.B. Blanc
Tara Strong
Kurtwood Smith
Christopher McDonald
Robin Atkin Downes
Batman/Bruce Wayne
Tatsu Yamashiro/Katana, Madison Randall
Alfred Pennyworth, batkomputer, reporter, oficer SCU
Barbara Gordon/Oracle, reporterka
James Gordon
Harvey Dent
Dane Lisslow/Bad Batman, policjant
Kiedy Bruce Wayne zostaje "zamordowany" przez Batmana, pozwala całemu światu sądzić, że nie żyje i udaje się na poszukiwania oszusta – Złego Batmana.
Początek odcinka to prawdziwe trzęsienie ziemi. Bruce Wayne zostaje zabity przez Batmana. Chociaż przez całość historii nie udaje się utrzymać równie wysokiego poziomu i zbyt często fałszywy Batmana strzela do wszystkich z laserowej broni, to końcówka sprawia, że otrzymaliśmy jeden z najlepszych odcinków. Akcja skupia się głównie na szukaniu odpowiedzi na pytanie kim jest osoba podszywająca się pod Batmana i dlaczego Wayne stał się celem ataku? Pełna napięcia atmosfera, wybuchowa akcja, to wszystko tu jest.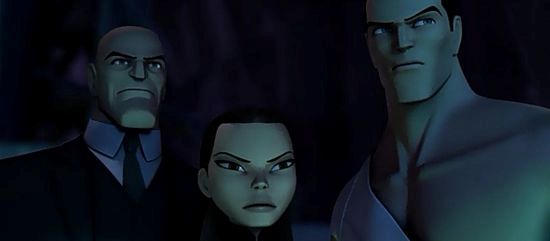 Co prawda cały czas nie wyjaśniono dlaczego Bruce Wayne wspiera Harveya Denta. Oczywiście gdyby to był prokurator znany z komiksów to wszystko byłoby jasne, ale wersja z "Beware the Batman" pozostawia wiele do życzenie. Wystarczy powiedzieć, że tym razem chyba nikt nie współczuje Dentowi z powodu jego wypadku, do którego dochodzi w odcinku. I chociaż nie widzimy co się stało, to reakcja policjantów ratujących Harveya nie pozostawia złudzeń, że jego twarz mocno ucierpiała w wyniku wybuchu.
Na samym końcu otrzymujemy kolejny zwrot akcji dotyczący postaci Dane'a Lisslowa. Jego motywacją nie jest bynajmniej chęć uratowania syna, kryje się za tym coś zupełnie innego. Zgrzyt pojawia się jedynie, gdy zaczniemy się zastanawiać, dlaczego taką ważną informację dotyczącą bohatera odkryła Barbara. Czy bat-komputer nie mógłby sobie z tym poradzić? Jednakże, jest co raz bardziej interesująco i zapowiada się, że ostatnie odcinki utrzymają wysoki poziom, bo jak się dowiadujemy Deathstroke jeszcze nie powiedział ostatniego słowa.
Ocena: 4,5 nietoperka

---
CIEKAWOSTKI I UWAGI:
Odcinek swoją premierę miał w Wielkiej Brytanii 16 kwietnia 2014 roku w ramach usługi Prime Instant Video od Amazon.
CYTATY:

Tatsu: I don't know what's worse. The hot air coming out of Dent, or the BO coming off this crowd.
Alfred: A single twig breaks. But a bundle of twigs is strong. Bruce Wayne was not a man who accepted the help of others easily. yet he was surrounded by those who loved him. Our strength will keep the memory of his spirit alive.
Barbara: Any leads? Anything I can help with?
Gordon: Sweetheart, I appreciate that. But for the next hour, all I care about is hot water on sore muscles. And yes, I know how girlie that sounds. And I don't care.

---
---