---
YOUNG JUSTICE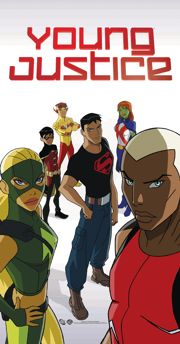 Jesienią 2010 roku na Cartoon Network zadebiutował kolejny serial animowany o losach bohaterów DC Comics. Początkowo w listopadzie wyemitowano pilotażowy godzinny odcinek, a w pełni produkcja wystartowała w styczniu 2011 roku. W Young Justice głównymi bohaterami są Robin/Dick Grayson (Jesse McCartney), Kid Flash/Wally West (Jason Spizak), Aqualad (Kari Peyton), Superboy/Connor Kent (Nolan North), Miss Martian (Danica McKellar) i Artemis (Stephani Lemelin). Jednak jak zapewniają producenci ważną rolę odegrają też doświadczeni członkowie Justice League tacy jak: Batman (Bruce Greenwood), Aquaman (Phil LaMarr), Green Arrow (Alan Tudyk) i Captain Marvel (Rob Lowe).
Bycie nastolatkiem oznacza, że cały czas trzeba coś udowadniać sobie, a przede wszystkim rówieśnikom, rodzicom, nauczycielom i mentorom. Ale co gdy nie jesteś tylko normalnym nastolatkiem? Co jeśli jesteś nastoletnim superbohaterem? Czy jesteś gotów by dołączyć do grona największych superbohaterów i udowodnić, że jesteś godny Justice League? To jest dokładnie to, z czym członkowie Young Justice – Robin, Aqualad, Kid Flash, Superboy, Miss Martian i Artemis – muszą sobie poradzić, by pokazać, że są godni miana superbohaterów.
W 2019 roku serial powrócił z trzecim sezonem, który można było oglądać na platformie DC Universe.
Powrót ulubionej animowanej serii fanów z ogromną obsadą najbardziej kultowych młodych superbohaterów DC – plus zupełnie nowe postacie, z których wiele odkrywa swoje unikalne meta-moce i specjalne zdolności. Na tle bogatego, głębokiego świata, który dotyka wszystkich zakątków Uniwersum DC, sezon koncentruje się na handlu meta-ludźmi i międzygalaktycznym wyścigu zbrojeń w celu kontrolowania tych obdarzonych supermocami młodych ludzi.
W październiku 2021 roku na platformie HBO Max rozpoczęto emisję 4. sezonu z podtytułem "Phantoms".
Za produkcję serialu odpowiadają Brandon Vietti, Greg Weisman. Obowiązki producenta wykonawczego przypadły Samowi Registerowi. W roli Batmana usłyszymy Bruce'a Greenwooda, który wcześniej udzielił głosu Nietoperzowi w filmie animowanym Batman: Under the Red Hood. Postaci Robina (Dick Grayson) głosu użyczy zaś Jesse McCartney.
Young Justice
(USA, 2010-2011, 2019-)
Producenci: Brandon Vietti, Greg Weisman
Producent wykonawczy: Sam Register
Reżyserzy: Jay Oliva, Sam Liu, Michael Chang i inni
Scenarzyści: Greg Weisman, Kevin Hopps, Andrew Robinson, Nicole Dubuc, Jon Weisman, Tom Pugsley, Peter David i inni
Muzyka: Kristopher Carter, Michael McCuistion, Lolita Ritmanis
Serial wyprodukowany przez: Warner Bros. Animation, Inc.
Dystrybucja: Cartoon Network
Obsada: Jesse McCartney, Jason Spizak, Kari Peyton, Nolan North, Danica McKellar, Stephani Lemelin, Bruce Greenwood, Phil LaMarr, Alan Tudyk, Rob Lowe, Marina Sirtis, Masasa Moyo, Miguel Ferrer.