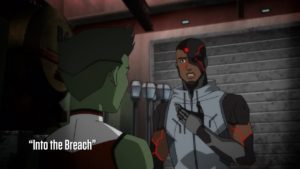 Tytuł odcinka: "Into the Breach"
Pierwsza data emisji: 27 sierpnia 2019
Reżyseria: Vinton Hueck
Scenariusz: Jonathan Callan
Twoja ocena: [yasr_visitor_votes size="medium"]
Obsada:
Troy Baker
Greg Cipes
Zehra Fazal
Eric Lopez
Jason Marsden
Danica McKellar
Nolan North
Zeno Robinson
Freddy Rodriguez
Deborah Strang
Mae Whitman
Geo-Force, Green Lantern
Beast Boy
Violet Harper, Trajectory
Blue Beetle/Jaime Reyes, Scarab
Kid Flash
Miss Martian
Superboy, Superman
Victor Stone/Cyborg
El Dorado
Gretchen Goode/Granny Goodness
Wonder Girl
Outsiders podejmują ostatnią próbę uratowania Halo … i galaktyki!
---
Ostatni odcinek zostawił Drużynę oraz członków Justice League w beznadziejnej sytuacji. W grze pozostali jednak Outsiders, którzy nawet nie zdają sobie sprawy w jakich tarapatach są ich przyjaciele.
Akcja "Into the Breach" rozpoczyna się jeszcze przed końcowymi wydarzeniami z "Terminus". Bohaterowie postawiają bliżej przyjrzeć się działalności Gretchen Goode i odkrywają coś co wcześniej przeoczyła Liga. Co prawda wpadają w kłopoty, ale z Cyborgiem, który panuje nad swoimi zdolnościami nawet Overlord nie stanowi dla nich problemu.
Nagle okazuje się, że Cyborg może wszystko. Pokonuje sprzęt Gretchen i nawet uwalnia w pojedynkę Halo, która dość łatwo cofa działania Anti-Life Equation.
Bohaterowie znowu są wolni i okazuje się, że starcie z Granny Goodness wcale nie było takie ciężkie. Cyborgowi przychodzi wszystko w gruncie rzeczy z wielką łatwością, że można się zacząć zastanawiać, czy tak naprawdę pozostali bohaterowie mają do odegrania jeszcze jakość rolę. Taki obrót spraw jest rozczarowujący. Dobrze, że knowania Lexa działają i Infinity Inc. jeszcze mogą namieszać w działaniach Outsiders. Bo co jest ważniejsze ilość uratowanych ludzi, czy popularność w mediach społecznościowych? Wkrótce się o tym przekonamy.
Ocena: 3,5 nietoperka

---
Ciekawostki:
Podczas napisów końcowych widać jak odcięty mały palec Lobo leżący na terenie Owings Mills ulega dalszej deformacji.
Beast Boy zamienia się w ma'alefa'ak podczas walki z Gretchen Goode.
Beast Boy i Wonder Girl używają West Maneuver na Gretchen.
Odcinek zaczyna się od momentu, w którym Miss Martian wysłała Beast Boyowi wiadomość tekstową w poprzednim odcinku, ale z punktu widzenia Beast Boya.
Victor wspomina, że Violet uratowała go wiele razy, odnosząc się do sytuacji, kiedy popadł w mordercze szaleństwo w "Another Freak", "Nightmare Monkeys" i "True Heroes", a Violet za każdym razem go oczyszczała.
Kid Flash znajduje rekwizyt głowy Klamulona z "Space Trek 3016", widziany w "Nightmare Monkeys".
Miss Martian mówi Foragerowi, że może bezpiecznie powrócić do New Genesis – po tym, jak został zmuszony do ucieczki ze swojego świata w "Away Mission" – teraz, gdy M'Comm powrócił na Marsa, a Mantis została aresztowana.
Geo-Force nawiązuje do "Evolution", mówiąc Victorowi, że ten potrzebuje "kryptonimu / nom de guerre" i że "Hot Lava" jest nadal dostępna.
Okazuje się, że Infinity, Inc. działa na zlecenie Lexa Luthora, co jest zgodne z radą G. Gordona Godfreya udzieloną mu w "Elder Wisdom".
Victor opowiada o trzech przeszłych wydarzeniach:

Gdy przypadkowo przechwycił wiadomość tekstową od Violet w "Influence".
Infuzję Mobius-tech w "Quiet Conversations".
Kiedy wyczuł, że Motherbox jest w niebezpieczeństwie w "Unknown Factors".

Jak we wcześniejszych odcinkach nie brakuje odniesień do liczby 16:

Odcinek rozpoczyna się 25 stycznia o 17:16 czasu PST.
Victor prowadzi Outsiderów do budynku Goode World Studios 16.
Cytaty:
Beast Boy: You only pulled me out so you could watch me watch my friends suffer.
Gretchen Goode: That I appreciate the value of your suffering is what makes me an excellent Hollywood Producer.
Victor: For too long, I've been running from what I am. Who I am. It's time I embraced all my freakishness. I am Cyborg!
Beast Boy: Welcome to the Outsiders, Cyborg.
Victor: Booyah.
---
---