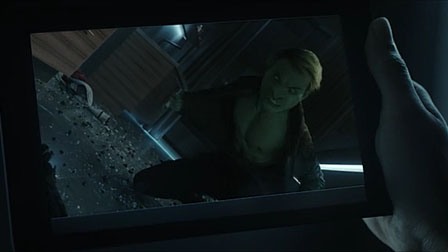 Tytuł odcinka: "Fallen"
Polski tytuł odcinka:
Pierwsza data emisji: 8 listopada 2019
Reżyseria: Kevin Sullivan
Scenariusz: Jamie Gorenberg
Twoja ocena: [yasr_visitor_votes size="medium"]
Po celowym ataku na dwóch policjantów, w wyniku czego zostaje aresztowany, Dick w końcu znajduje spokój w więzieniu w Nevadzie. Ale bohater, którego zostawił, nie został pochowany na zawsze. Tymczasem Rachel zaprzyjaźnia się z uciekającą dziewczyną i bierze ją pod swoje skrzydła – i odkrywa, że jej własne moce mogą nie być w pełni pod jej kontrolą. Po powrocie do Titans Tower, Gar ponownie spotyka Connera i Krypto, ale kiedy Mercy Graves stara się odzyskać "Subject 13" dla Cadmus, Gar wpada w krzyżowy ogień.
W rolach głównych:
Brenton Thwaites – Dick Grayson
Teagan Croft – Rachel Roth/Raven
Ryan Potter – Gar Logan
Conor Leslie – Donna Troy
Joshua Orpin – Subject 13/Conner
Gościnnie występują:
Evan Jones – Len Armstrong
Orel De La Mota – Rafael
Julian Works – Luis
Rey Gallegos – Santos
Natalie Gumede – Mercy Graves
Raoul Bhaneja – Walter Hawn
W pozostałych rolach:
Delia Chambers – córka #1
Lyla Elliott – córka #2
Jill Niedoba – żona Mercy
Sydney Kuhne – Dani
Ish Morris – Caleb
Michael Reventar – Carlos
Tameka Griffiths – Eriel
Nicky Lawrence – pracownik Soup Kitchen
Patrick Haye – strażnik #1
Ahmed Moustafa – policjant
---
Tytuł odcinka "Fallen" dobrze odzwierciedla poziom ostatnich odcinków. Jest to istny upadek, a oglądanie "Titans" zamienia się w udrękę. Są jednak drobne promyczki w postaci wątku z Cadmus.
Całość już w poprzednim odcinku położył wątek Graysona, a teraz jest jeszcze gorzej. Męczennik Dick próbujący się ukarać to nie jest widok, który zachęci widzów do oglądania. Efekt jest odwrotny. Całemu temu pomysłowi nie warto poświęcać więcej słów. Jedyne co nam daje to aluzja do nowej tożsamości bohaterskiej Dicka, który nawet gdy nie chce pomagać, to tak ostatecznie robi to co uznaje za słuszne.
Przeciętnie wypada też sytuacja Rachel, która jeszcze nie zdaje sobie sprawy, że jej moce wyrwały się spod kontroli. Trafiając na dziewczynę w potrzebie odkrywa też, że wiele dzieciaków ma problemy. Tylko czy naprawdę jest w stanie im pomóc, w tej sytuacji, czy jeszcze więcej szkód wyrządzi nim odnajdzie ją Donna?
Zdecydowanie najlepiej sprawdza się wątek Superboya i Gara. Ponownie też Krypto ma swoje 5 minut. Ich kłopoty w których udział ma Mercy Graves, dostarczają emocji, akcji i nadziei, że nie warto jeszcze skreślać "Tytanów". Widać też jak Conner wyciąga wnioski ze swoich zachowań. Kolejny raz okazuje się, że wprowadzenie Superboya a także innych postaci, które razem z nim zadebiutowały to najlepsze co zrobili twórcy w tym sezonie. Szkoda, że reszta pomysłów okazała się tak chybiona.
Po "Fallen" ciężko przewidzieć co będzie dalej. Może być lepiej ale też i gorzej. Zbliżamy się do końca sezonu i najwidoczniej wiele z rozpoczętych wątków nie zostanie należycie zakończonych. Nie wiadomo również jak bohaterowie zaakceptują Dicka, który raz zataja prawdę, albo jak ostatnio kompletnie się odcina i tym samym porzuca ich, kiedy młodym bohaterom wali się grunt pod nogami. Przy takim zachowaniu Dicka aż tęskni się za narwanym Jasonem.
Ocena: 2,5 nietoperka

---
Ciekawostki:
W celi jeden z więźniów rysuje na ścianie symbol Alazula, który bardzo przypomina logo Nightwinga. Dick nawet się upewnia, czy to bird that comes in the night and saves people?".
Wspomina się o Corto Maltese.
Po od czasu odcinka "Doom Patrol" zostaje wspomniany Niles Caulder. .
Podczas sekwencji z aresztowania i odesłania do więzienia Dicka słychać "What Makes a Good Man?" zespołu The Heavy.
Podczas rodzinnej przejażdżki Mercy Graves słychać piosenkę "High Top Shoes" JoJo Siwy.
Podczas napisów końcowych słychać utwór "Smash It Up, Pt. 1 & 2" zespołu The Damned.
---
---