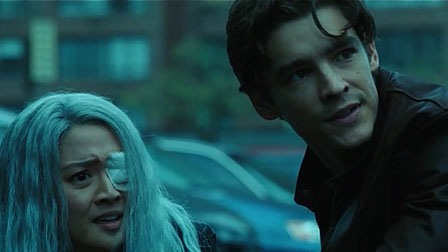 Tytuł odcinka: "Rose"
Polski tytuł odcinka:
Pierwsza data emisji: 13 września 2019
Reżyseria: Nathan Hope
Scenariusz: Richard Hatem
Twoja ocena: [yasr_visitor_votes size="medium"]
Trzy miesiące po starciu z Trigonem, Dick ciężko pracuje, szkoląc Rachel, Gara i Jasona w Titans Tower. Tymczasem reszta naszych bohaterów rozpoczyna kolejny etap życia. Hank i Dawn przenoszą się do Wyoming, podczas gdy Donna i Kory działają, szukając nieokiełznanego meta-człowieka. Jednak ta nowa normalność zostaje wkrótce zakłócona przez stare zagrożenie z przeszłości i pojawienie się tajemniczej młodej uciekinierki.
W rolach głównych:
Brenton Thwaites – Dick Grayson
Anna Diop – Koriand'r/Kory Anders
Teagan Croft – Rachel Roth
Ryan Potter – Gar Logan
Conor Leslie – Donna Troy
Curran Walters – Jason Todd
Chelsea Zhang – Rose Wilson
Alan Ritchson – Hank Hall
Minka Kelly – Dawn Granger/Dove
Gościnnie występują:
Iain Glen – Bruce Wayne
Michael Mosley – Arthur Light/Dr. Light
Robbie Jones – Faddei
W pozostałych rolach:
Spencer MacPherson – Ellis
Hanneke Talbot – Selinda Flinders/Shimmer
Jason Stutz – strażnik więzienny
Mike Chute – prawnik na konferencji
Heath V. Salazar – barista w kawiarni
Dan Iaboni – młody chłopak #1
Jordan Dawe – młody chłopak #2
William Ellis – młody chłopak #3
Jason Cavalier – Stunt Cop Driver
---
Z tym odcinkiem zaczyna się właściwe nowe otwarcie dla "Titans". Cały czas jesteśmy jednak na budowaniu gruntu pod główną historię sezonu. Ze względu na trzy główne wątki, akcja odcinka nie ma zawrotnego tempa, ale poszczególne elementy dobrze się zazębiają zwiastując interesującą historię.
Z jednej strony mamy młodych bohaterów szlifujących swoich umiejętności, nie tylko podczas treningów, ale także poprzez zapoznawanie się z "Sztuką wojny" Sun Tzu. Widać, że młodzi bohaterowie się rozwijają i nawet Jason Todd znalazł sobie miejsce, bo jak się dowiadujemy, to Bruce nalegał by Tim go przygarnął. Grayson jednak cały czas pomaga. Tym razem ratuje Rose, który potrafi sama o siebie zadbać. Jako, że Dick nie wie jeszcze, że jest ona córką Slade'a Wilsona, co może zastanawiać dlaczego tak szybką postanowił jej pomóc.
U Hanka i Dawn początkowy mamy obraz spokojnej sielanki, która nie trwa jednak długo, gdy okazuje się, że Dawn cały czas prowadzi działalnością bohaterską. Mamy więc kolejny przykład z komplikacjami towarzyszącymi bohaterski Nie jest to jednak najważniejszy problem tej dwójki, bo ich spokój poważnie zakłóca Dr. Light.
Jak się okazuje wcześniejsza grupa Tytanów narobiła sobie sporo wrogów. Nie tylko Deathstroke ma z nimi rachunki do wyrównania. Swoje sprawy ma też Dr. Light i to on sprawia, że bohaterowie znowu się połączą. Nie znamy jeszcze jego historii z Tytanami, ale wygląda, że sprawi naszym bohaterom sporo problemów.
Swoje problemy ma też Koriand'r dla której powstrzymanie meta-człowieka nie jest wielkim wyzwaniem ale wizyta za strony Tamaraneana to już inna sprawa. Tak więc jakby na horyzoncie bohaterów było mało zagrożeń, to pojawia się jeszcze zagrożenie z innego świata.
W "Rose", chociaż poznajemy nową bohaterkę, to historia bardziej skupia się na już znanych bohaterach. Każdy z nich jest na innym etapie, ale widać, że nic nie jest stałe i wkrótce nowym Tytanom i starym przyjdzie połączyć siły.
Odcinek dobrze się ogląda, cała koncepcja na ten sezon wydaje się lepszym pomysłem niż w przypadku pierwszego. Jednak wiedząc, że jeszcze gdzieś się kryje Superboy czy Aqualad można się zastanawiać, czy akcja nie jest prowadzona zbyt wolno. Już dwa odcinki za nami, a cały czas jesteśmy na etapie wprowadzania i dodawania nowych zagrożeń. Niemniej jednak widać w tym potencjał na ciekawą superbohaterską opowieść, która oferuje coś więcej niż tylko akcję. Za sprawą Hanka i Dawn mamy postaci, którym przyszło wiele zapłacić za bohaterską działalność, Dick zaś cały czas szuka dla siebie nowej roli, wie już, że nie jest Robinem, ale w takim razie kim?
Ocena: 4 nietoperki

---
Ciekawostki:
Roy Harper zostaje wspomniany przez Donnę Troy.
W scenie w kawiarni słychać piosenkę "Rock the Casbah" w wykonaniu The Clash.
Podczas obserwacji w vanie Kory and Donna słuchają piosenki "We Are Family" w wykonaniu Sister Sledge.
---
---