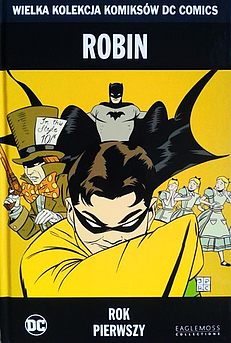 Robin: Rok Pierwszy
Data wydania: 9 sierpień 2017
Scenariusz: Chuck Dixon, Scott Beatty, Bill Finger
Rysunki: Javier Pulido, Marcos Martin, Bob Kane
Tłumaczenie: Marek Starosta
Druk: kolor, kredowy
Oprawa: twarda
Format: 170 x 260 mm
Ilość stron: 224
Wydawca: Eaglemoss
Wydawca oryginalny: DC Comics
Cena: 39,99 zł
Twoja ocena:

GD Star Rating
loading...
"Robin: Rok Pierwszy" to 26. tom Wielkiej Kolekcji Komiksów DC Comics. Autorami scenariusza są do podziału Chuck Dixon i Scott Beatty. Ten pierwszy to, obok Alana Granta, najprawdopodobniej najczęściej wykorzystywany pisarz przez wydawnictwo TM-Semic przy wydawaniu Batmana jakiego pamiętam. Drugi z kolei to autor znany przede wszystkim z pisania różnych komiksowych (i nie tylko) encyklopedii, jak np. "Batman: The Ultimate Guide to the Dark Knight" lub "The DC Comics Encyclopedia". Rysunkami, również do podziału, szczycą się Javier Pulido, który może być znany polskiemu czytelnikowi z pracy np. nad "Hawkeyem" do scenariusza Matta Fractiona oraz Marcos Martin (m.in. "Doktor Strange: Przysięga").
Patrząc na tytuł, nie można spodziewać się niczego innego, jak właśnie początku kariery pierwszego Robina – Dicka Graysona. Mimo że nie jestem fanem Cudownego Chłopca, komiks mnie wciągnął i przypadł do gustu. Złożyło się na to kilka elementów: charyzma młodego pomocnika Nietoperza, która świetnie kontrastuje z nastrojem jego mentora; ciekawa narracja Alfreda towarzysząca nam przez całą fabułę; czy szybka akcja oraz występy różnych przeciwników nakręcające tempo. Te, jak i inne mniejsze elementy sprawiły, że przy lekturze bawiłem się pierwszorzędnie.
Gdy przypominam sobie inne originy Robinów, zazwyczaj było w nich mało miejsca dla Batmana. Stał gdzieś tam z boku, niewiele mówił i robił, a sto procent uwagi skupiona była na Cudownym Chłopcu. To oczywiście jest zrozumiałe, ale często brakowało mi większego udziału Bruce'a. Tutaj jest troszkę inaczej, bo Mroczny Rycerz również odgrywa istotną rolę oraz ma swoje problemy – tak właśnie być powinno. Dodatkowo, jest też miejsce na trochę innych wątków poza relacją mentor – uczeń. Powątpiewanie Alfreda, ale przede wszystkim kapitana Gordona, w słuszność decyzji o "zatrudnieniu" dziecka do roli mściciela; intryga z pewną organizacją działającą w Gotham City, której ścieżki krzyżują się z głównym bohaterem historii – to wszystko nie pozwala się nudzić ani przez chwilę. Dodatkowy plus za niezłego Two-Face'a, wyróżniającego się na tle innych gothamskich adwersarzy poziomem stwarzanego zagrożenia. Wbrew temu co pokazuje okładka, to nie Szalony Kapelusznik jest głównym łotrem. To jedynie przystawka, zupa, a to właśnie Harvey jest drugim daniem, aczkolwiek zapewniam, że znalazła się też rola dla innych przeciwników.
Przeważnie nie lubię, gdy Batmanowi plątają się pod nogami młodociani pomocnicy, ale tutaj nie tyle mi to nie przeszkadzało, co nawet podobało. Niech nie odstraszają Cię jaskrawe kolory falującej pelerynki i elfie trzewiczki na nieowłosionych nogach – to nie jest dziecinna historia. Jest kilka całkiem mocnych momentów, a nie wszyscy uchodzą tutaj z życiem. Standardowo w przypadku Wielkiej Kolekcji Komiksów DC Comics, w albumie dostajemy także przedruk komiksowego debiutu danego bohatera – w tym przypadku opowieść z 1940 roku.