WYWIAD Z DAVEM MCKEANEM – 06.10.2012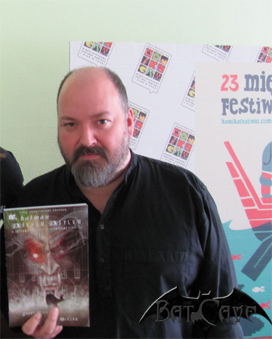 Podczas 23. Międzynarodowego Festiwalu Komiksu i Gier redakcja BatCave miała okazję na przeprowadzenie wywiadu z Davem McKeanem, który był jednym z gości festiwalu. Artysta znany jest fanom Batmana najbardziej z wykonania ilustracji w komiksie Granta Morrisona "Azyl Arkham", który ukazał się w Polsce 2005 roku nakładem wydawnictwa Egmont w kolekcji "Mistrzowie Komiksu". McKean znany jest także z okładek do serii "Sandman" Neila Gaimana oraz wielu innych dzieł z różnych dziedzin sztuki.
Wersja polska:
Kelen: Zanim przejdę do pytań na temat konkretnych tytułów, mógłbyś opowiedzieć na temat tego jak zainteresowałeś się komiksami i rysowaniem?
Dave McKean: Zawsze kochałem komiksy. Gdy byłem bardzo młody, zdarzało mi się chorować i nie chodziłem do szkoły. W związku z tym, mama kupowała mi komiksy. Niektórymi z nich były brytyjskimi przedrukami historii z superbohaterami Marvela i bardzo je pokochałem. Od tamtego momentu zacząłem stale szukać nowych komiksów. Tak właściwie nigdy nie faworyzowałem konkretnego twórcy, postaci czy serii. Po prostu kochałem samo medium i starałem się odnajdywać nowe rzeczy. I w ten sposób trafiłem na DC Comics, Charlton Comics i horrory publikowane w amerykańskim magazynie Warren. Historie były raczej w porządku ale to właśnie ilustracje robione przez południowoamerykańskich artystów były świetne. Później odkryłem Heavy Metal, Métal Hurlant, komiks europejski, undergroundowy z Ameryki, japoński…
Zatem zawsze kochałem ów medium, lecz też zamierzałem odnajdować nowe zainteresowania.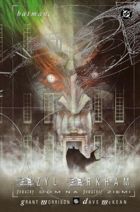 K: A jak wyglądała sprawa ilustrowania? Moment, w którym odkryłeś te komiksy był tym, który zadecydował o tym, że chciałeś zostać rysownikiem?
DM: Cóż, rysowałem od zawsze, nawet przed zobaczeniem tych komiksów jako małe dziecko. Wykonywałem rysunki przez cały czas. Najczęściej byli to gracze piłki nożnej i dinozaury. Mój ojciec nie był co prawda profesjonalnym rysownikiem lub artystą (choć sądzę, że pewnie chciałby), miał jednak w zwyczaju rysować komiksy, więc był to pewnego rodzaju miły punkt połączenia między nim a mną. I po prostu nie przestawałem rysować. Uwielbiam historie oraz rysunki, zatem komiksy zostały stworzone dla mnie. To moje idealne medium.
K: Poza rysowaniem zajmujesz się kilkoma innymi dziedzinami sztuki. Czy w którejś z nich czujesz się najlepiej?
DM: Czy w którejś się czuje najlepiej? Teraz prawdopodobnie byłoby to po prostu rysowanie, za pomocą pióra, tuszu lub czegokolwiek. W ciągu ostatnich 30 lat już kilka razy odkryłem na nowo, jak bardzo kocham po prostu rysować. Ale to, co najbardziej sobie cenię to różnice między mediami i podoba mi się fakt, że nie robię codziennie tego samego i nie wiem, co będę robił w kolejnym miesiącu. Może fotografie, film lub coś zupełnie odmiennego. Kocham uczyć się nowych rzeczy, dlatego nie mogę powiedzieć, że czuje się wygodnie przy robieniu filmów, gdyż to bardzo trudne medium do rozgryzienia ale to nie znaczy, że nie lubię pracować nad nimi, jak przy rysowaniu.
Ale jeśli chcesz, abym czuł się kompletnie swobodnie, wygodnie i szczęśliwy to wtedy wszystko, czego mi trzeba to stół z pustą kartką i piórem. (śmiech)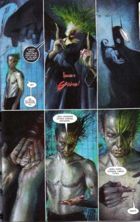 K: Jak doszło do tego, że zilustrowałeś komiks "Arkham Asylum"?
DM: Rozpocząłem pracę z DC Comics. Zaczynałem tam razem z Neilem Gaimanem. Nigdy jeszcze niczego nie opublikował i pracował jako dziennikarz a ja wciąż uczęszczałem do szkoły artystycznej. Spotkaliśmy się razem w miejscu w Londynie, gdzie planowano zrobić brytyjski magazyn komiksowy, do którego realizacji w końcu nie doszło. Neil miał rozmowę kwalifikacyjną z edytorami DC. Spodobały im się moje prace i niektóre propozycje Gaimana, dlatego też razem stworzyliśmy komiks "Black Orchid". W trakcie pracy nad nim, edytorka Karen Berger chciała ustalić kolejne rzeczy, które ja oraz Neil będziemy tworzyć. Karen spytała go, czy zechciałby zająć się regularną serią – w ten sposób powstał "Sandman", a mnie zaproponowała podesłanie kilku scenariuszy i w ten sposób dostałem skrypt do "Arkham Asylum". Sądzę, że był on czytany i odrzucony przez wielu ludzi ponieważ był już nieźle obmacany w momencie, gdy ja go dostałem. (śmiech)
Była to prosta historia o Batmanie, ale miała strukturę "Alicji w Krainie Czarów" i umiejscowiona była w tym mrocznym, koszmarnym, pokrętnym azylu. Mimo że osobiście nie wybrałbym komiksu o Batmanie lub ogólnie superbohaterskiego, sądziłem, że ma wiele interesujących elementów. I wtedy poznałem Granta. Pojechałem do Londynu, aby spotkać Granta Morrisona i stwierdziłem, że jest wspaniały. Gdyby był prostym scenarzystą i chciałby mieć prostą opowieść o Batmanie napisaną w typowy sposób – byłoby to w porządku. Wtedy musiałby dać to do zrobienia komuś innemu. Ale tego nie zrobił. Grant chciał eksplorować i wprowadzić świeże inspiracje z filmu i teatru (sporo czytał i przygotował sporo odniesień do literatury). Był tak samo żądny do przekroczenia wszystkich granic jak ja. Lubiliśmy te same rzeczy, obojgu podobała nam się twórczość Dennisa Pottera i wiele innych. Mieliśmy sporo wspólnego. Byłem w pewien sposób zachwycony jego reakcją i chęcią wprowadzenia poprawek, takich jak wyrzucenie Robina i więcej oczywistych, prostych, superbohaterskich rzeczy, jak Bruce Wayne przebierający się za nietoperza i tego typu sprawy. Osobiście mogłem jedynie odnieść się do niego jako coś w rodzaju mitycznej, symbolicznej postaci.
K: Jakie emocje towarzyszyły Ci podczas pracy nad tą powieścią graficzną? "Arkham Asylum" jest dosyć przygnębiający i ponury, nie przytłaczało Cie to ani trochę?
DM: Właściwie to wcale. Większość moich prac ma mroczniejszy nastrój i nie odbieram tego jako coś przygnębiającego. To świat, który mam przed sobą i cieszę się, że mogę go zbadać. Było kilka momentów, jak na przykład rozkładówka z tytułem na początku, które przyniosły mi dużo przyjemności podczas wykonywania. Pomyślałem wtedy "To będzie najlepszy komiks na świecie", miałem o nim naprawdę dobre myśli. No i wiesz, to kwestia codzienności i wykonania swojej roboty, więc nie masz czasu na to, aby czuć się przejętym.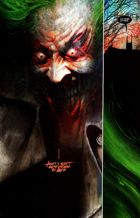 K: Muszę przyznać, że gdy jakieś 10-12 lat temu przypadkowo natknąłem się w internecie na fragment komiksu z ilustracją Jokera na większość strony to potwornie się go przeraziłem…
DM: Świetnie. (śmiech)
K: …jak najszybciej zamknąłem przeglądarkę…
DM: Doskonale! (śmiech)
K: …i powiedziałem "Już nigdy więcej nie będę szukać obrazków z Batmanem na Google Grafika". (śmiech)
DM: Zatem zadziałała, tak jak miała. (śmiech)
K: Jak długo zajęło Ci zaprojektowanie wyglądu Księcia Zbrodni? Czy przeraża również Ciebie?
DM: To dziwna postać. Wiesz, moje prawdziwe doświadczenie z Batmanem to serial telewizyjny. Bardzo campowe, żartobliwe. Ciekawą rzeczą związaną z Jokerem jest to, że został zrobiony na podstawie "The Man Who Laughs". Świetny film! Fantastyczny film. Zatem wróciłem do niego. A ta historia o młodych dzieciach, które jeśli dobrze pamiętam były z cygańskich rodzin i były cięte aby je oznaczyć, była absolutnie przerażająca. Postać grana przez Condrada Veidta była fantastyczna. To było naprawdę mocne i chciałem dojść do tego punktu. Nie chciałem po prostu skopiować tego nastroju, ale zbliżyć się właśnie do niego. Koniec końców, zrobiłem glinianą maskę, aby mieć na czym się wzorować. Później sfotografowałem ją, a następnie rozmazywałem fotografie i bawiłem się innymi efektami. To dało mi podstawy dla rysunków.
K: Mógłbyś opowiedzieć coś na temat prac, nad którymi obecnie pracujesz?
DM: Tak właściwe, to zawsze miewam komiksowe projekty – to moja pierwsza miłość, w związku z tym pracuję nad zbiorem krótkich komiksów oraz nad powieścią graficzną. Sam ją napisałem i będzie nosić tytuł "Caligaro". To przeróbka mojego ulubionego filmu, którym jest "The Cabinet of Dr. Caligari". Będzie to coś innego, ale o podobnej strukturze. I nad tym właśnie pracuję, tak samo jak nad jednym filmem, który chcę dokończyć i kilkoma książkami z innymi ludźmi.
Wersja angielska:
Kelen: Before I ask you about your works, can you tell me about how you got interested in comic books?
Dave McKean: I've always loved comics. From when I was very young I was ill from school, I had some days off school. And my mother bought me some comics. Some of them were British reprints of Marvel superhero comics and I absolutely loved them. From there on I just constantly searched down new comics. I haven't really always liked one particular artist, character or kind of comic. I've just loved the medium so I kept on finding new things. And I found all the other DC Comics, Charlton Comics and things I found in American Warren magazines that published horror comics. And the stories were kind of ok but the drawings made by a lot of South America artists were really good. And then I discovered Heavy Metal, Métal Hurlant, European comics, American Underground Comics, Japanese Comics…
So I've always loved the medium but I intended just to hop around and find new things.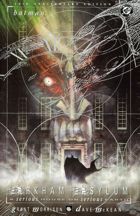 K: And what about illustrating? When you found those comic books it was the point when you realized that you wanted to be an illustrator?
DM: Well, I've always drawn, even before seeing those comics as a tiny child. I have always drawn pictures all the time. I used to draw pictures of footballers and dinosaurs, and anything. My dad wasn't a professional illustrator or artist although I think he probably would like to be. But he used to draw cartoons so that was some lovely point of connection with him. And I just carried on drawing. I loved stories and I liked drawings so comics were made for me, really. That's my perfect medium.
K: Besides illustrating, you are working in several others fields of art. Is there one you are feeling the most comfortable with?
DM: Most comfortable with? Probably now it's just drawing with pen or ink or whatever. I've rediscovered how much I love just simply drawing a few times over the last 30 years. But what I really love is the differences between the mediums so I like the fact that I'm not doing the same thing day and day out, and that I don't really know what I'm going to do next month. It might be some photography or it might be some film editing or it might be something else entirely. I love learning new things so I can't say I'm comfortable with making films, because it's a very difficult medium to crack but that doesn't mean that I don't like it as much to explore as drawing.
But if you want me to be completely at ease and comfortable and happy then a table with blank piece of paper and pen is all I need. (laughs)
K: How did you get involved into illustrating "Arkham Asylum"?
DM: I started working at DC Comics. Neil Gaiman and I started together. He had never published anything and he was working as a journalist and I was still at the art school. We met at a place in London that was putting together a comic book magazine that actually never happened. He got his interview with the editors of DC and they liked my work and they liked some of Neil's proposals so we did the book called "Black Orchid" for them. While we were doing "Black Orchid", the editor of that was Karen Berger and she was interested in setting up what my next book would be. And Neil's as well. She asked Neil if he would like to write a regular series, which became "Sandman", and she asked me if I wanted to look at the other scripts so she sent me "Arkham Asylum". I think it has been seen, read and rejected by a bunch of other people because it was pretty thumbed by the time I got it (laughs).
It was a pretty straight Batman story but it did have this "Alice in Wonderland" structure to it and was set in this dank, nightmarish, labyrinthine asylum. Although I wouldn't personally have chosen to do a superhero or Batman comic at all, I thought it had really interesting elements to it. But then I got to meet Grant. I went to London to meet Grant Morrison and I thought he was wonderful. If he had been a very straight writer and he wanted this very straight Batman story told in a very ordinary way – that would be fine. But he really should get somebody else to do it. But he didn't. Grant wanted to explore and bring new influences from film and theatrical writing (he was a big reader and brought lots of literature references). He was as eager to push all the boundaries apart as I was. We liked the same things, we both loved Dennis Potter's writings. All these things. We had a lot in common. I was very sort of enthused by his reaction and his eagerness to rewrite and to take out Robin and more obvious, straight superhero things, Bruce Wayne dressing as a bat – things like that. I could only really relate to it as some sort of mythic, symbolic figure.
K: What kind of emotions were you experiencing during work on that graphic novel? "Arkham Asylum" is a bit depressing and gloomy, didn't it overwhelm you a little?
DM: Actually, not at all. Most of my work has a darker feel to it and I don't necessarily find it depressing. That's the world that I see and I'm happy to explore it. There were certainly parts, like the title spreads at the beginning that I absolutely love doing. I've just thought: "This is gonna be the best book in the world", I have got really good thoughts about it. And then, you know, it's a question of day by day getting the work done so you don't really have time to get worried about it.
K: I have to say, that when I was a kid back ten or twelve years ago I accidentally found on the internet a piece of the graphic novel with a Joker illustration on the whole page and I got so scared…
DM: Good. (laughs)
K: …that I closed the browser immediately…
DM: Excellent! (laughs)
K: and I said "I will never search any Batman images on Google Images again." (laughs)
DM: It did its job then. (laughs)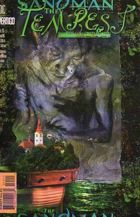 K: How long did it take to you to design the Prince of Crime in the graphic novel? Is he frightening for you too?
DM: He is a strange character. You know, my real experience of Batman is the television series. Very campy, jokey. The interesting thing about the Joker is that he is based on "The Man Who Laughs". Great Film! Fantastic film. So I came back to that. And that story of these young children from, I think it was gypsy families that slashed and cut to mark them; it's absolutely terrifying. And the character played by Conrad Veidt in the film was fantastic. That's really strong and I wanted to get to that. I didn't want to just copy it but I want to get to that feeling. I ended in making a clay mask to have something to look at. And then I took photographs of that and blurred it and everything. And that started to be basis for the drawings.
K: Could you tell something about things you are currently working on?
DM: I think I have always comic projects – that's my first love so I'm doing a book of short comics and a new graphic novel. I've written it and it's called "Caligaro". It's a reworking of my favorite film which is "The Cabinet of Dr. Caligari". It's quite different but it has similar structure to it. And that's what I'm working on right now, as well as other things like a film I want to finish and a bunch of books with other people.
---