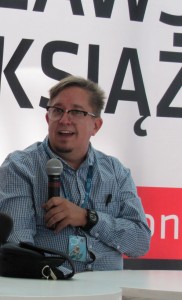 John Layman, scenarzysta "Detective Comics" z New 52 (#13-29) oraz kilku innych komiksów z Batmanem (m. in. "Batman Eternal") był gościem 5 edycji Festiwalu Komiksowa Warszawa (14-17.05.2015). Autor znany przede wszystkim ze swojego własnego tytułu "Chew" (Image Comics), podczas imprezy prowadził warsztaty związane ze scenariuszami do historyjek obrazkowych. Ponad to, uczestnicy mogli wziąć udział w spotkaniu z gościem, gdzie opowiadał o pracy nad komiksami dla różnych wydawców.
Cały run Johna Laymana z "Detective Comics" publikowany jest po polsku przez wydawnictwo Egmont (tomy od 3 do 6).
W festiwalowy piątek, John Layman udzielił naszemu serwisowi wywiadu, z którego dowiecie się między innymi jak zaczęła się jego przygoda z komiksem, Mrocznym Rycerzem i co ma wspólnego jazz z Batmanem.
Wersja polska:
Kelen: Jak zainteresowałeś się komiksami i co zadecydowało o tym, że chciałeś pracować w tym biznesie?
John Layman: Chciałem mieć związek z komiksami tak długo, jak tylko pamiętam. O ile się nie mylę, moją pierwszą historyjką obrazkową była adaptacja "Gwiezdnych Wojen" z 1977 roku. Wtedy wiedziałem, że chcę mieć styczność z tym medium na zawsze. Oczywiście, gdy dorastałem w latach 70., nie było jeszcze internetu. W czasach obecnych dużo łatwiej mieć z nimi styczność, chociażby przez portale społecznościowe, gdzie można swobodnie nawiązać kontakt z autorami. Mnie, dzieciaka dorastającego w małym mieście w Kalifornii to wszystko ominęło, ale wiedziałem, że chcę być w tym biznesie. Kiedy ukończyłem studia z języka Angielskiego (bo, jak sądziłem, jeśli chcesz pisać komiksy, potrzebujesz do tego dyplomu), przeprowadziłem się do San Diego (gdzie odbywa się oczywiście San Diego Comic-Con), aby pewnego dnia zdobyć wymarzoną pracę. Nigdy nie odpuściłem i ostatecznie się udało.
K: Jak wspominasz swój pierwszy komiks, w którym znalazło się twoje nazwisko?
JL: Tak właściwie, moje nazwisko pojawiło się pierwszy raz w komiksie w formie listu w serii "Micronauts". Jeśli zaś chodzi o wkład twórczy, to zdarzyło mi się pomoc w wykonywaniu pracy na komputerze dla redaktora mangi "Chirality", gdzie ostatecznie pojawiła się notka z podziękowaniami dla mnie. Później pracowałem w WildStorm, w czasie, gdy w Marvelu trwało wydarzenie "Heroes Reborn". W biurze spotkałem współscenarzystę "Fantastic Four", który próbował dobrać odpowiedni dialog dla Reeda Richardsa. Wskazałem jeden z widocznych wariantów jako propozycję i została przyjęta. Stwierdziłem – O mój Boże! Właśnie zadecydowałem, co Reed Richards powie w komiksie! A teraz, do tej pory, pisałem już Batmana, Spider-Mana, Hulka… idzie aż zdębieć, zapomnieć kompletnie, co właściwie robisz. To coś niesamowitego! Jasny gwint, piszesz Batmana! Wszyscy wiedzą, kto to jest. Na początku czujesz, jak przechodzą cię ciarki. Będąc nerdem – jesteś w niebie.
K: W jaki sposób dostałeś rolę scenarzysty "Detective Comics"?
JL: Sam jej nie szukałem. Mike Marts był moim redaktorem przy serii "Gambit". Sprawował wtedy redakcyjną pieczę nad X-Men. Był jedną z pierwszych osób, która dała mi pracę w tytułach z głównego nurtu, kiedy byłem jeszcze młody i pełny zapału. Jestem mu wdzięczny do dziś, Mike jest naprawdę świetnym człowiekiem. Później od X-Men trafił do Batmana. Pamiętam jeden z konwentów komiksowych w Seattle. Kiedy spotykasz redaktora w Ameryce, wszyscy szukają pracy i chcą rozmawiać o biznesie. Byłem wtedy bardzo zadowolony z "Chew" i nie szukałem dodatkowych zajęć. Spotkałem Mike'a, który zaczął mi opowiadać, co się w tej chwili dzieje w związku z Batmanem. Powiedziałem mu wtedy: "Mike, nie obchodzi mnie to. Porozmawiajmy o twoim psie. Porozmawiajmy o twoich dzieciakach. Porozmawiajmy o filmach. Bądźmy po prostu przyjaciółmi, nie poruszajmy tematu pracy – nie szukam jej". Spędziliśmy mnóstwo dobrego czasu, jak zwykle zresztą i trzy miesiące później dostałem od niego telefon. "Wiem, że nie szukasz pracy. Ale jeśli miałbyś okazję zrobić coś fajnego, zrobiłbyś to?", zapytał mnie. Podpytałem, co może być tak fajnego. Gdy usłyszałem w słuchawce: "Cóż, czy Batman jest wystarczająco fajny?", odpowiedziałem po prostu: "TAK". Ta postać wydawała się dla mnie kompletnie poza zasięgiem i nigdy nie sądziłem, że mógłbym nad nią pracować. Będę pisać Batmana? Dajcie spokój! Trzy lata przed "Chew" ledwo kto chciał mnie zatrudnić, dlatego pisanie scenariuszy z Mrocznym Rycerzem wydawało mi się szalone. Oczywiście przyjąłem propozycję, ale byłem pewien, że mnie wywalą, wiesz? Wywalą po pierwszym numerze, dlatego chciałem użyć w nim Poison Ivy, Clayface'a, tak dużo postaci, jak tylko mogłem, zanim DC się połapie i mnie wyleje. Ale tego nie zrobili! Całość trwała i trwała, i trwała…
K: Ignatius Ogilvy to zupełnie nowa postać w świecie Batmana. Co konkretnie spowodowało, że postanowiłeś go wprowadzić do galerii złoczyńców Mrocznego Rycerza?
JL: Zawsze uważałem, że komiksy robiły pewną rzecz w nieodpowiedni sposób. Wszyscy złoczyńcy mieli swoich podwładnych. Relacja z nimi wygląda zazwyczaj w taki sposób: "Jestem łotrem, jestem na ciebie wściekły, zaraz cie rozwalę!". Podwładni zawsze byli praktycznie bezimienni, nie byli charakterystyczni i zawsze łojono im skórę. Pomyślałem – a co jeśli jeden z nich jest bystrzejszy? Któryś z nich musi w końcu być. Cała geneza historii Ogilvy'ego polegała na tym, aby pojawił się sługus z ambicjami, nie będący mięsem armatnim i chcącym przejąć główne stery.
K: Przed rozpoczęciem pracy w DC Comics wystartowałeś ze swoją serią "Chew" z motywem ptasiej grypy. W Batmanie zająłeś się Pingwinem. Czy twoje upodobanie do ptaków to przypadek? [Śmiech]
JL: [Śmiech] Nie, to tylko przypadek. Tak właściwie, Pingwin był wtedy dostępny. Zapytałem, których tak właściwie mogłem użyć, bo w tamtej chwili wydawane były aż trzy serie z Batmanem. Joker był nieosiągalny – Scott Snyder miał co do niego wielkie plany, więc musiałem wiedzieć, kogo ma do dyspozycji.
K: Twoja historia momentami płynnie wiązała się z tym, co kreował w swojej serii Scott Snyder. Czy od początku planowałeś swoją opowieść w taki sposób, aby wpasowała się w główny ciąg?
JL: Nie. Sprawa wygląda tak – "Chew" to moja opowieść, która jest jak symfonia – każda nuta ma swoje miejsce i przeznaczenie. W przypadku Batmana istniało kilka serii, wydarzeń, crossoverów, a zmiany nadchodziły szybko. Zdałem sobie sprawę, że on z kolei jest jak jazz. Nie planowałem zbyt wielu rzeczy na przód, bo nagle przychodzono do mnie z nowinkami typu: "Och, wiesz, Robin umrze! A Joker robi to i to!". Nie miałem nic przeciwko temu. Pracowałem wcześniej jako redaktor, zatem wiem, na czym ten proces polega. Zdawałem sobie sprawę z tego, że seria Scotta była tą główną. Moją kupowałeś jako drugą, jeśli czytałeś dwa tytuł z Batmanem. Ale jeśli tylko jeden, to był to właśnie Scott. To również nie sprawiało mi problemu. Scott jest siłą napędową uniwersum Batmana. Ja chciałem tylko opowiedzieć z nim dobre historie. Zapytano mnie, czy chcę wziąć udział w "Śmierci Rodziny" i zgodziłem się. Chciałem uczynić wszystko, aby mój wkład wypadł jak najlepiej dla całości. Praca nad wszystkim wymagała jednak sporej improwizacji. "Robin umiera w następnym numerze! Pogódź się z tym!". Cóż, w porząsiu! Nie miałem dalekobieżnych planów, ale nie sprawiało mi to problemu. Tak właściwie, niewiedza dotycząca tego, gdzie droga mnie zabierze była pokrzepiająca pod względem kreatywnym.
K: Powiedziałeś, że musiałem improwizować, jednak czytelnicy mogli zobaczyć mnóstwo małych fragmentów, które się ze sobą łączyły w każdej twojej następnej historii…
JL: Cóż, wiedziałem o pewnych punktach, do których chciałem dotrzeć. Zmienne było to, co działo się pomiędzy. Wiedziałem, gdzie mam dotrzeć, ale nie znałem jeszcze dokładnej drogi.
K: W swoich historiach dużo czasu poświęciłeś także takim postaciom jak Man-Bat, Wrath, czy Harvey Bullock. Pisanie której z nich sprawiało ci najwięcej frajdy?
JL: O, rany. Ciężko powiedzieć. Chyba nie znam dobrej odpowiedzi. Chociaż, chwila, znam – wszystkich wymienionych! Lubię każdego z nich z różnych powodów. Jako wielki fan Batmana ekscytowałem się każdym elementem, z którego mogłem skorzystać.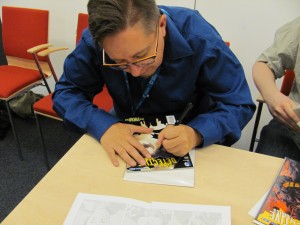 K: Brałeś udział w dwóch ważnych numerach "Detective Comics" – numerze 900 oraz odnowionym 27. Czułeś presję z powodu tak ważnych liczb?
JL: Nie. Nie zdawałem sobie sprawy z ogromu tej kwestii. Praca nad takimi komiksami jest jak gra w gorące krzesła – nikt nie będzie mógł siadać w nieskończoność. Po prosu trzymasz kciuki za to, że usadowisz się w odpowiednim momencie. I mnie się to udało! Byłem człowiekiem, który w tym specyficznym czasie w historii pracował nad "Detective Comics" i zostanę nim na zawsze. Jestem szczególnie dumny z numeru 900, ponieważ jako niezbyt szybki scenarzysta napisałem dobrych 50 stron. Przy okazji, nie szedłem też zbytnio do przodu z "Chew" w tamtym czasie, co ostatecznie stało się problemem. Praca nad "Detective Comics" była świetna, ale moja własna seria na tym cierpiała. Swoją drogą, do 27 numeru pojawiło się kilka okładek, w tym od Franka Millera! Napisałem komiks, do którego okładkę zrobił Frank Miller!
K: 27 numer "Detective Comics" to także początek historii "Gothopia", która rozrosła się na kilka innych tytułów. Sam zasugerowałeś wydawcy, aby zrobić z tego crossover?
JL: Nie. Gdy skończyłem scenariusz, DC najwyraźniej zauważyło w niej potencjał. Osobiście nie chciałbym, aby czytelnik wydawał 20 dolarów za historię, kiedy może ją kupić za 3,99. Starałem się ją stworzyć w taki sposób, aby była zamknięta w jednej serii. Ale jeśli spodobał ci się pomysł – możesz zawsze zerknąć na to, co przygotowali inni autorzy. Takie podejście miałem pisząc swój zeszyt związany z "Śmiercią rodziny" – aby był samodzielny i jednocześnie wspierał historię Scotta Snydera. Dziwnym było to, że sami zaproponowali zrobienie z tej historii crossoveru, który ostatecznie okazał się moim ostatnim wkładem w "Detective Comics".
K: Czy wiedziałeś już podczas pisania "Gothopii", że to twoje ostatnie scenariusze?
JL: Nie. Decyzja nadeszła nagle. Nie zwolniono mnie, ale przeniesiono do "Batman Eternal". Prawda jest jednak taka, że nie radzę sobie dobrze drużynowo i nie chciałem do końca pracować nad tym tytułem. Ale uwielbiam Mike'a Martsa, a on potrafi mnie przekonać do wszystkiego. Poza tym, pomyślałem, że źle wyglądałoby, gdyby scenarzysta "Detective Comics" nie brałby w tym udziału. No i byli tam jeszcze Ray Fawkes, Tim Seeley, James Tynion oraz Scott Snyder. Niespecjalnie chciałem pełnić rolę współscenarzysty, ale postanowiłem dać temu szansę, bo uwielbiam ich. Wydawnictwo zaprosiło nas wszystkich na wspólne spotkanie w sprawie zbliżających się projektów, w tym o "Batman Eternal". Powiedzieli mi wtedy: "Nie chcemy, abyś spanikował, ale nie będziesz już zajmował się "Detective Comics". Wciąż będziesz pracował nad "Batman Eternal", a później znajdziemy dla ciebie coś innego". Pomyślałem wtedy, szlag, odebraliście mi serię, którą lubiłem i przydzieliliście mnie do czegoś, co mnie nie interesowało. Na dodatek miałem zaległości z "Chew". Kiepska sprawa! Trochę się tym zadręczałem – czy ja przypadkiem nie pakuje się w kłopoty? Musiałem koniecznie skupić się na własnej serii. W końcu porozmawiałem z nimi i powiedziałem, że nie jestem zainteresowany "Batman Eternal". Spytałem, jak mogłem odejść z projektu nie paląc mostów za sobą, nie byłem też przecież wściekły, sam projekt był świetnym doświadczeniem, ale nie mogłem doprowadzić do sabotażu własnego komiksu. Wskazano mi, za które numery jestem jeszcze odpowiedzialny i czy mogę je napisać. Oczywiście zgodziłem się, w końcu nie chciałem po prostu odejść, spalić firmy, moich przyjaciół i redaktorów. Zrobiłem to, co do mnie należało i odszedłem. Moja filozofia jest prosta – Batman zawsze gdzieś tam będzie. Zawsze będę mógł wrócić do niego. Ale jeśli spieprzę swój komiks, to zaszkodzę swojemu życiu. Na prawdę potrzebowałem wrócić do "Chew" i tak właśni zrobiłem.
K: "Batman Eternal" był ogromnym projektem. Nie wyglądał na zbyt łatwy do zarządzania.
JL: Wszyscy scenarzyści się dogadywali. Słyszałem historie o cotygodniowych seriach, gdzie na pierwszy plan wchodziło ego, zranione uczucia i poprawki wprowadzane na ostatnią chwilę. "Batman Eternal" trwało ponad rok, a ja napisałem około 10 zeszytów, ale praca z resztą ekipy była bardzo pozytywnym doświadczeniem. To jeden z tych przykładów, gdzie seria tygodniowa wypaliła. Wszyscy byli szczęśliwi.
K: Pracowaliście nad nią osobiście, czy także przez internet?
JL: Osobiście i przez internet.
K: Wiedziałeś, jak seria się zakończy?
JL: Znałem zakończenie. Ale powiedzmy, że nie wszystko zawsze wychodzi tak, jak sobie to zaplanujemy. Całość przeszła dosyć znaczące zmiany. Tego typu sytuacje są nie do uniknięcia. Tak wielkie i ambitne pomysły nigdy nie kończą się wedle oryginalnego planu. Częścią tego procesu jest odkrywanie postaci i elementów historii, o których nie myślałeś od początku. Sądzę, że wszyscy byli zadowoleni z tego, jak ostatecznie całość wypadła, ale na pewno nie była to pierwotna wersja.
K: Rozumiem, że nie możesz nam zdradzić oryginalnego zakończenia? [Śmiech]
JL: Och, nie. Nie mogę. [Śmiech] I całkiem możliwe, że już go nie pamiętam. [Śmiech]
K: "Chew" kończy się lada chwila (zostało 10 numerów). Czy w związku z tym istnieje szansa na to, że zobaczymy Cie ponownie w komikach z Batmanem lub ogólnie w DC Comics?
JL: Tak. Wiesz, Mike Marts nie zajmuje się już Batmanem i przeszedł do Marvela – wtedy zaproponował mi pisanie serii "Cyclops" przez 7 miesięcy. Później znowu zmienił pracę. W związku z tym, obecni redaktorzy serii z Batmanem są ludźmi, których znam, ale wcześniej z nimi nie pracowałem. Na mój widok mówią "Och, to ten, co odszedł". [Śmiech] Niedawno na ten temat rozmawialiśmy i na pewno chciałbym powrócić, ale najważniejszym dla mnie jest, aby nie spieprzyć zakończenia "Chew". Chętnie powrócę do Batmana, ale nie spieszy mi się do tego.
K: Czy są jakieś historie z Batmanem, które chciałeś opowiedzieć, ale zabrakło ci czasu?
JL: No cóż, ostatecznie nie dokończyłem historii Ogilvy'ego. Miałem dużo większe plany, lecz odebrano mi "Detective Comics". Nie mam im tego za złe, zdaję sobie sprawę, że zmiany zespołu muszą nastąpić, aby wprowadzić świeżą krew. Proponowali mi inne serie, ale miałem zaległości z "Chew". Dlatego grzecznie odmówiłem, ale chętnie powrócę do Batmana w przyszłości.
K: Co sam czytasz w wolnym czasie? Jakie serie poleciłbyś innym?
JL: W większości zaczytuję się w komiksach niezależnych. Staram się śledzić większość, ale jest ich zbyt wiele. W tej chwili uwielbiam "The Manhattan Project". Lubię "Sixth Gun", "Lock & Key" (nawet mimo tego, że już się skończyło). Cóż, większość, co obecnie czytam to Image. Nie kupuje zbyt dużo superbohaterów. Nadal śledzę "Batmana" Scotta Snydera i kilka innych. Zazwyczaj podążam za autorami, a nie konkretnymi postaciami, jak np. "Daredevil" Marka Waida. Ale, rany. Wymień jakikolwiek dobry tytuł od Image wydawany w tej chwili – na pewno go czytam. Kupuję również rzeczy z Oni Press, jak np. "Letter 44". Wszystko od mniejszych wydawców. Cóż, ale jeśli tylko mój powrót do DC stanie się poważniejszą kwestią… będę musiał nadrobić wszystkie tytuły z Batmanem! Tak właściwie, to nie mam pojęcia, jak niektórych ludzi stać na 20 serii z tym bohaterem. Ja sam mam konkretny budżet, którym chcę wspierać moich niezależnych znajomych.
Wersja angielska:
Kelen: How did you get into comic books and what made you want to work with them?
John Layman: I wanted to work on comics for pretty much as long as I can remember. I think my first book was "Star Wars" from 1977; and since then I just wanted to be a part of the comic industry – forever. Growing up when I did, in the late 70s, there was no Internet – it's easy enough for people to get into comics now, because you can talk to me on Twitter, there's more interaction. But for me, growing up in a farm town in California, I didn't know, I just wanted to be in comics. When I graduated from college with an English degree – because I figured, if you wanna write them, you get a writing degree – I moved to San Diego, which is where San Diego Comic-Con was, to someday get into comics. I just never wavered from that goal and it eventually happened.
K: Do you remember the first comic with your name on the cover or the inside (because in the beginning you were also an editor)?
JL: Actually, the first time I was in comic book was when I wrote a fan letter to "Micronauts". But creatively, it was when I helped with some computer stuff for somebody who was the editor for a manga book called "Chirality", and I got a "special thanks" note there. Then, I remember working at WildStorm during the run of "Heroes Reborn" at Marvel. There was this guy co-writing "Fantastic Four". He was in the office and he was talking about a line Reed Richards was saying and he was like: "what about this, what about this" and I said "and what about this one?". "Yeah, I like that line, I will use it", he responded. I was like – Oh, my God! I just put words in Reed Richards mouth! And now, coming to this point, I've written Batman, Spider-Man, Hulk… and you get a little jaded, you forget what you are doing – it's a thrill! You are writing freaking Batman! Everyone in the world knows who that is. First couple times the chill runs down your spine, because if you are a nerd – you are in heaven.
K: How did you get the writing job for "Detective Comics"?
JL: I didn't seek it out. Mike Marts was my editor on "Gambit" – he used to be an X-Men editor. He was one of the first people to give me a mainstream job, when I was very young and still very hungry. I've been always grateful, Mike is a superb guy and he went from the X-Men office to the Bat office. I remember one Seattle con. When you meet an editor in America, everyone is angling for a job – everyone wants to talk business. I was very happy on "Chew", I wasn't looking for a job. I see Mike, we start talking and he's like: "Here's whats going on at the Bat office". And I'm like: "Mike, I don't care. Let's talk about your dog. Let's talk about your kid. Let's talk about the movies. Let's be friends, don't make it about the work, I'm not looking for it." We had a good time together like we always do and three months later he calls me and he says: "I know you said you are not looking for a job. But if you had an opportunity to do something cool, would you do it?". I answered him: "I don't know. What's cool?". And he's like: "Is Batman cool?". My reaction was: "YES". Batman seemed so far out of reach to me that I've never even considered it. I'm gonna write Batman? Come on! Three years before "Chew", I could barely get hired in comics. So the idea of writing Batman was crazy to me. So of course I took it, but I thought, they're gonna fire me, you know. They're gonna fire me within an issue, so I wanted to use Poison Ivy, Clayface, as many characters as I can before DC gets smart and fires me. But they didn't! It kept going, and going and going.
K: Ignatius Ogilvy was a brand new character in the Batman universe. What's the story behind creating him?
JL: I always thought that comics had a false note, you know. All of these super villains have minions, and it was always like: "I'm the supervillain, I'm mad at you, I'm gonna blow you away!". They were always the ones to get beat up and were nameless and faceless. And I thought – what if there's a bad guy's minion who actually got a brain? One of these guys has to be smart. So the whole genesis of the story was the idea of an ambitious minion who is not going to be cannon fodder and tries to take over.
K: Earlier, you started off "Chew" with a bird flu story – and then wrote the Penguin. Is there a connection, do you like using birds in your books? [Laughs]
JL: [Laughs] No, it's just a coincidence. Penguin was actually just available at the time. I asked which villains should I use, because there were three Batman books at the time. Can't use Joker – because Scott Snyder has big plans for him, so I asked which one can I get.
K: Your story had strong connections with what was going on in Scott Snyder's "Batman", like Penguin going to the Arkham Asylum with the Joker, etc. Was it part of your plan from the beginning?
JL: No. Here's the thing – "Chew" is mine and it's a symphony with every note in its place. What I realized very quickly with the Batman, because things change very fast – you've got three books, events, crossovers, that he was like jazz. I didn't plan too far ahead, because they came to me and said: "Oh, Robin's going to die! And the Joker does this!". And I was ok with that. I was an editor so I understood how it works. I knew that Scott's book was the primary one. I'm the book you're reading if you're reading two Batman books. But if you're reading one – you're reading Scott. And I'm fine with that. Scott is a driving force of the Bat universe. I just wanted to tell good Batman stories. They asked me if I wanted to participate in the "Death of the Family" crossover, and I said yes. I wanted to do whatever I could to play my part and make the Bat universe cool; but a lot of it involved improvising on the spot. "Robin dies next issue! Deal with it!". Well, okay! There was not a lot of long term planning, but I was fine with that. It's kind of creatively refreshing, not knowing where the road is going to take me.
K: You said that you needed to improvise, but the reader could notice every small connection with each of your story arcs in the "Detective Comics"…
JL: Well, I knew of some of the long term notes I had to hit, but the things inbetween were kind of more amorphous. It was like I had the destination, but I didn't know the route.
K: Your comics focus a lot on characters like Man-Bat, Wrath and Harvey Bullock. Which one of them you had the most fun writing about?
JL: Oh, boy. I can't tell. There's no answer to that. Well, there is – all of the above. I like them all for different reasons. As a Batman fanboy I just have to geek out over everything I get to use.
K: You've taken part in creating two important issues of Detective Comics – issue #900 and renewed #27. Was working with such important issues a stressful experience for you?
JL: No. I didn't realize the magnitude of it. All of these two books are just a game of musical chairs – no one's on it forever. In the musical chairs you just hope to be in the seat on the right time. And I was! I was just the guy at that point in history, and now I'll always be that guy. I was really proud of the 900th I think, because I'm not a prolific writer, nor super fast; but I wrote around 50 pages in that issue. And, you know – I wasn't getting ahead on "Chew" in those months, which ultimately became a little bit of a problem, because it was so fun, but my own book was suffering at that expense. And, by the way, they did a lot of covers for the 27th and there was a Frank Miller one! I wrote a book with Frank Miller on the cover!
K: The 27th issue was also the start of your "Gothopia" story, which ended with some tie-ins. Was it your idea to make it as crossover story?
JL: No. I wrote it and I think they saw an opportunity and decided on it. I'm not necessarily a fan of making you pay 20$ for a story where you could pay 3,99$. I tried to make my story as self-contained as possible and if you like it so much that you want more, you can read books from the other writers. And that's how I approached my "Death in the Family" issue – make it self-contained and support the Scott Snyder story. What was weird was that they came to me and had this idea for the crossover. They said: "You had all this other stuff in crossovers, now it's your turn". And it ended up being my last issues.
K: Did you know back then, when you started writing "Gothopia" that it's going to be your final issues?
JL: No. The actual decision came a bit suddenly. It wasn't a fire thing, because they put me on "Batman Eternal", but I'm not really a team player and I didn't want to be on it. And yet, I love Mike Marts and he can sweet talk me into anything. I thought that it would look really bad if the "Detective Comics" writer wasn't participating. And there's Ray Fawkes, Tim Seeley, James Tynion and Scott Snyder. Though I didn't want to co-write, I gave it a shot because I like the guys. When I went to DC, they flew us for a creative summit where we were gonna talk about "Batman Eternal". They sat me down and said: "We don't want you to panic, but we are taking you off the "Detective Comics". You still have "Batman Eternal" and we will find something else for you". That's when I thought, shoot, you took me off the book I wanted for the book I didn't necessarily want. And I'm falling behind on "Chew". This is bad! I agonized over it for about a bit. Am I hurting myself here? I need to concentrate on my own book. I eventually came to them and said that the "Batman Eternal" gig is not for me and asked how can I get out without burning any bridges, because I'm not angry and it has been a great experience, but I can't sabotage my own book. They said that I'm committed to these certain issues and asked me if I can write them. I said yes, because I'm not gonna walk away, burn my company, burn my friends, burn my editors. I did my commitment and I walked away. My philosophy is that Batman will always be there. I can always come back to him. But if I screw up my book, I would sabotage my life. I really needed to step back, concentrate on "Chew" and that's exactly what I did.
K: "Batman Eternal" was such a big project. It doesn't seem to be an easy task, maintaining it.
JL: All the writers got along. I heard the stories about other weekly books where there were egos, hurt feelings and last minute corrections. This one run for a year and I was really involved in something about the first ten issues, but talking to the guys was a positive experience. This was the one case where a weekly series worked out. They are all happy.
K: Were you all working on it in person or on the Internet?
JL: Both.
K: Did you know how it was going to end?
JL: I knew the end. But I'll say that things never end the way they are planned. It actually went through some pretty significant shifts from what it was originally intended. Which, honestly, is part of the course. Anything that's big and ambitious is not going to be what it was originally set up. The part of it is that you just discover the characters and the elements of the story you didn't see when you were originally thinking about it. I think everyone was happy with the way it ended, but it wasn't the ending they had thought it was going to be.
K: I suppose you cannot tell what was in the original plans? [Laughs]
JL: Oh, no, I can't. [Laughs] And it's possible that I don't remember. [Laughs]
K: "Chew" is coming to an end (only 10 issues left). Is there any chance that, when it ends, we're gonna see you again in a Batman book or in DC in general?
JL: Yes. You know, Mike Marts left the Bat office and went to Marvel, and he called me up and hired me to do "Cyclops" for seven months. But since then, he moved to another job. So the Bat editors right now aren't people that I'd worked with, but I'm friends with them. All they know is "Oh, that's the guy who quit". [Laughs] We've been talking recently and I know I would like to return, but it's also important that I don't screw up with the ending of "Chew". So I would like to return to the Bat office, but I'm not in a giant hurry.
K: Are there any Batman stories you wanted to tell but you didn't have the time for it?
JL: Well, I've never finished the Ogilvy stuff. I had a longer game planned; but they put me off the "Detective Comics". I don't blame them, I knew that every once in a while they need to change the creative teams and get some new blood in. They offered me many other books, but I was behind with my own book. I respectively refuse, then, but I would love to be back in the Bat office one day.
K: What do you personally read in your free time? Can you share any recommendations with us?
JL: I mostly read independent comic books. I follow what's going on with most of the books but there's a lot of them so you can't just read it all. "The Manhattan Project", I think, is my favorite book at the moment. I like "Sixth Gun", I love "Lock & Key" (even when it's over). Well, most of what I read is Image. I don't read much superheroes, you know. I still follow Scott Snyder's "Batman" and other certain books. I tend to follow writers I like more than characters. Mark Waid's "Daredevil", stuff like that. But, boy. Name any good Image title right now – I'm reading it. I read a lot from Oni Press – like "Letter 44". All of the small publishers. Unless, if I start to talk to the Bat office and it gets serious again… well, I better start reading every Batman title! I actually don't know how certain people can afford to read the 20 Batman books that there are out there. I only have so much money and I want to support my independent friends.