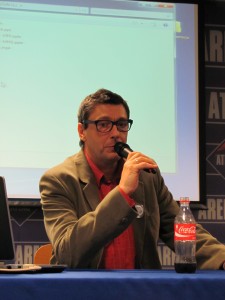 Podczas 26. edycji Międzynarodowego Festiwali Komiksu i Gier, Tomasz Kołodziejczak, redaktor naczelny działu komiksowego w wydawnictwie Egmont, ogłosił wstępne zapowiedzi na rok 2016. To właśnie z nich dowiedzieliśmy się o planach na polskie edycje takich tytułów jak "Batman Eternal", czy "Catwoman: Trial of the Catwoman". Po festiwalowym spotkaniu przeprowadziliśmy krótką rozmowę z wydawcą m. in. na temat przyjęcia linii DC Deluxe oraz przyszłorocznych planów.
Z wstępnymi zapowiedziami Egmontu na rok 2016 możecie zapoznać się pod tym linkiem.
Kelen: Jak Egmont ocenia tegoroczny odbiór komiksów z linii Nowe DC Comics oraz świeżego eksperymentu jakim jest DC Deluxe?
Tomasz Kołodziejczak: Dobrze. Rozwijamy różne linie DC Comics, wprowadzamy nowe serie. Na tegorocznym Międzynarodowym Festiwalu Komiksu i Gier przedstawiliśmy częściowe plany na rok 2016 – dostaniecie dużo fajnych komiksów do czytania. Oczywiście mamy obawy o wzajemną "kanibalizację", zważywszy, że nasz rynek wciąż nie jest bardzo duży. Ale jesteśmy przekonani, że wybieramy dobre tytuły i z Nowego DC, i jednocześnie ciekawe pozycje z klasyki.
K: Dostaliśmy "Kryzys Tożsamości", zapowiedziano "Crisis on Infinite Earths" – czy możemy spodziewać się wydania reszty "Kryzysów" – "Infinity Crisis" oraz "Final Crisis"?
TK: Na tę chwilę nie mogę obiecać nic poza tym, co zostało już zapowiedziane. Nie ukrywam również, że tego typu historie – najważniejsze crossovery w historii uniwersum – są przeze mnie rozważane. Będziemy je przedstawiać. Z drugiej strony, DC Deluxe nie może składać się tylko i wyłącznie z takich komiksów, tym bardziej, że nowy czytelnik nie zawsze jest gotowy na ich lekturę, niektóre wymagają bardzo dobrej znajomości świata DC. Jeśli jednak czytelnicy będą kupować klasykę – oczywiście będziemy publikować kolejne tego rodzaju tomy.
K: Egmont wystartował z komiksami Marvela w miękkiej oprawie. Teraz dowiedzieliśmy się o takiej samej inicjatywie z DC Comics w postaci "Superman/Batman" oraz "Jonaha Hexa". Rozważane są jeszcze inne tytuły tego wydawcy w takim formacie, czy wszystko zależy od przyjęcia tego doboru?
TK: Nie mam nic do dodania. Jestem przekonany, że przy takiej nawałnicy tytułów, miękkie oprawy i niższa cena to dobry pomysł. Problem z komiksami DC Comics jest taki, że ich tomy zazwyczaj są bardzo grube, w związku z czym, nawet wydając je w miękkiej oprawie, nie zdołamy osiągnąć cen rzędu 40-50 zł. Dlatego też w większości są to albumy w twardych okładkach. Natomiast jeśli możemy szukać tańszego produktu, to po niego sięgam. W końcu tak działa rynek na całym świecie. Dodatkowo – jeśli mamy większe grono czytelników, bo na przykład filmy budują popularność postaci, to możemy szukać niższych cen okładkowych, tak jak w przypadku komiksów Marvela. Sprzedajemy je po 39,99 zł, a fani w księgarniach specjalistycznych po są w stanie kupić je nawet poniżej 30 zł. Wydaje mi się, że to bardzo dobra oferta.
K: Nie da się ukryć, że Batman jest bestellerem wśród superbohaterów Egmontu. Jaka inna postać znajduje się zaraz za nim?
TK: Za Batmanem stoi kolejny Batman. A za nim… Batman. Dopiero potem Liga Sprawiedliwości, czy Superman. Wonder Woman – ok, ale gorzej niż bym chciał. Jestem tym zdziwiony, bo komiks ma świetny scenariusz i rysunki. Niestety, jest to dowód na to, że mniej znani bohaterowie nie mają w Polsce dostatecznie dużej klienteli. Czekamy więc na film z WW. W przypadku Marvela, najlepiej sprzedające się komiksy to "Avengers" i "Strażnicy Galaktyki". Powodzenie danego bohatera oczywiście wynika z jakości samego tytułu, ale największe znaczenie ma otoczka marketingowa, czy są dobre filmy, czy nie.