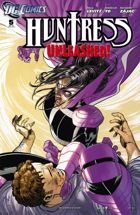 HUNTRESS #5
Tytuł historii: Crossbow at the Crossroads, Part Five
Miesiąc wydania (okładka): Kwiecień 2012 (USA)
W sprzedaży od: 08.02.2011 (USA)
Scenariusz: Paul Levitz
Rysunki: Marcus To
Okładka: Guillem March, Tomeu Morey
Kolor: Andrew Dalhouse
Tusz: John Dell, Richard Zajac
Liternictwo: Sal Cipriano
Ilość stron: 32
Twoja ocena:

GD Star Rating
loading...
Po uwolnieniu dziewczyn wykorzystywanych przez Morettiego celem Huntress staje się Chairman, który już przybył do Włoch, o czym najlepiej świadczy fakt, że Amalfi, stara forteca, która ostatnio była atrakcją turystyczną znów została zamieniona w istną twierdzą. Żeby się tam dostać bohaterka odwraca uwagę strażników wysadzając w powietrze łódź. I chociaż była to bardzo fajna motorówka, to tato zawsze powtarzał Helenie, że rzeczy są po to by z nich korzystać. Powstałe zamieszani umożliwia bohaterce, w przebraniu starej sprzątaczki, dostać się do środka fortecy.
Po zauważeniu wybuchów Chairman od razu posyła po swoich ludzi, ale nie obawia się, że na miejscu może się zjawić zamaskowana bohaterka, bo jak udowadnia na jednej ze swoich kobiet, kobiety są słabe i łatwo je zranić.
Podczas kolacji przyjaciele Heleny wznoszą toast za sukces misji bohaterki, bo najwyższy czas by ktoś wysłał handlarzy żywym towarem do piekła.
Wykorzystując gaz usypiający Huntress unieszkodliwia strażników przed apartamentem Chairmana. Kiedy jednak po wykorzystaniu gogli na podczerwień zauważa, że w pomieszczeniu przebywa także Lion of Kufra, który wcześniej dał jej niezły wycisk postanawia oprócz grantów wykorzystać także elektryczności. I to właśnie poprzez porażenie prądem pokonuje najgroźniejszego przeciwnika. Po jego pokonaniu pozostali strażnicy nie mają zamiaru stawiać najmniejszego oporu i umożliwiają jej wejście, do bezpiecznego pokoju, w którym ukrył się Chairman. Mężczyzna nie obawia się, że zostanie postawiony przed oblicze sprawiedliwości, nawet po tym jak zabił na górze jedną z kobiet. Huntress nie dba jednak o aspekty prawne, bardziej liczy się dla niej sprawiedliwość i dlatego wystrzeliwuje ze swojej kuszy, w jego stronę, strzałę…
Początek miniserii sugerował, że może to być tytuł z większymi aspiracjami. Ostatnie numery jednak udowodniły, że nie takie były plany. Huntress robi swoje, rozprawia się ze swoimi przeciwnikami bez większych problemów. Tym razem jednak, kiedy już oficjalnie wiadomo, że Helena w tej miniserii to córka Bruce'a Wayne'a z Ziemi-2, szczególną uwagę zwraca się na jej odniesienia do ojca. Pod względem fabuły numer nie ma jednak za wiele do zaoferowania, ale to, co zawsze było mocną stroną miniserii niezmiennie trzyma wysoki poziom – rysunki To prezentujące Huntress w akcji.
Ocena: 3,5 nietoperka

---