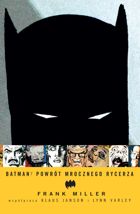 BATMAN: POWRÓT MROCZNEGO RYCERZA
Data wydania: 11.07.2012
Scenariusz: Frank Miller
Rysunki: Frank Miller, Klaus Janson, Lynn Varley
Tłumaczenie: Tomasz Sidorkiewicz
Druk: kolor, kredowy
Oprawa: twarda
Format: 170 x 260 mm
Ilość stron: 208
Wydawca: Egmont Polska
Wydawca oryginalny: DC Comics
Cena: 89,99 zł
Twoja ocena:

GD Star Rating
loading...
---
Jeden z najważniejszych komiksów o Batmanie!
Gotham City przyszłości to miasto pełne bezprawia i dekadencji. Dawni bohaterowie strzegący porządku zniknęli. Teraz ulicami rządzą groźne gangi. Podstarzały Bruce Wayne od dziesięciu lat nie wciela się w Batmana. Jednak gdy kontrolę nad miastem zamierza przejąć bezwzględny gang Mutantów, a komisarz Gordon musi odejść na emeryturę, Bruce Wayne wraca do gry i udowadnia, że Batman nie został wezwany na próżno.
Powrót Mrocznego Rycerza to dzieło, które w połowie lat 80. XX wieku zrewolucjonizowało sztukę komiksu. Frank Miller (autor serii Sin City i albumu 300) pokazał czytelnikom nową twarz Batmana oraz zaproponował sposób narracji niespotykany do tej pory w przygodach superbohaterów.
Drugie polskie wydanie ukazuje się w nowym przekładzie Tomasza Sidorkiewicza.
---
Wydanie powstało na podstawie komiksu: BATMAN: THE DARK KNIGHT RETURNS.
---