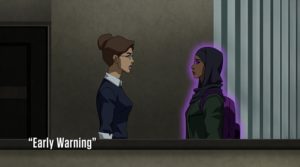 Tytuł odcinka: "Early Warning"
Pierwsza data emisji: 16 lipca 2019
Reżyseria: Vinton Hueck
Scenariusz: Greg Weisman
Twoja ocena: [yasr_visitor_votes size="medium"]
Obsada:
Thom Adcox
Lacey Chabert
Greg Cipes
Zehra Fazal
Grey Griffin
Bryton James
Stephanie Lemelin
Danica McKellar
Whitney Moore
Khary Payton
Freddy Rodriguez
Tara Strong
Klarion
Zatanna
Beast Boy
Violet Harper, Harper Row, Wendy Jones
Helga Jace, Maria Garcia
Static
Tigress, Computer
Miss Martian/ Megan Morse
Courtney Whitmore
Aquaman, Luis Garcia
Eduardo "Ed" Dorado Jr., Ramon Bracuda
Tara Markov/Terra, Bethany Lee
Projekt Rutabaga grozi powstaniem międzynarodowego kryzysu.
---
Jak do tej pory druga część sezonu lekko mnie zawodzi. Nie inaczej jest w przypadku "Early Warning". Outsiderom wszystko idzie jak po maśle, a nawet jak mają jakieś kłopoty to szczęście im sprzyja. W tym przypadku Zatanna, ktoś zawsze służy im wsparciem. Pod względem PR ekipa Garfielda odnosi zaś pełny sukces, tylko jak długo będzie trwać taki sielankowy obraz młodocianych bohaterów?
Chociaż starcie z Klarionem jest schematyczne, to obecność Pana Chaosu i jego kota dostarcza sporo humoru. Bardziej intrygujące są poboczne wątki. O ile buntowniczy okres Violet za sprawą rodzinnych kłopotów Harper Row jest dobrze znanym schematem, to już wyznanie Helgi Jace, to zupełnie inna kwestia.
Sprawa Helgi cały czas rozgrywa się powoli, ale wydaje się, że w najbliższym czasie powinna przyśpieszyć i wtedy dowiemy się też co tak naprawdę skrywa pani doktor, która nie działa bezinteresownie.
"Early Warning" to raczej przeciętny odcinek, w którym powtórzone są sprawdzone chwyty z poprzednich odcinków. Pompowany jest sukces Outsiderów, którzy jakby nie było stają się idolami meta-nastolatków. Pomysł dobry i dobrze przedstawiony, ale teraz pozostaje już czekać tylko aż bańka pęknie. Rozstrzygnięcie starcia Zatanny z Klarionem i jego rozmowy z kotem są jednak bezcenne.
Ocena: 4 nietoperki

---
Ciekawostki:
Podczas napisów końcowych z ujęcie z zewnątrz pokazuje Tower of Fate, z której Klarion i Teekl wciąż próbują uciec.
Courtney Whitmore podsumowuje ostatnie misje Outsiderów w Taos ("Illusion of Control") i Brooklynie ("First Impression"). Wspomniana zostaje też misja w Chicago, do której doszło pomiędzy odcinkami.
Helga Jace wyznaje Violet, że zbadała kosmyk jej włosów w "Illusion of Control".
Zmarła Joan Garrick. Pokazano ją w szpitalnym łóżku, z mężem u boku, w "First Impression".
Nazwa projekt Rutabaga została podrzucona przez Vandala Savage'a i Lexa Luthora w "Evolution".
Litera "K", którą Klarion wypala na czole meta-nastolatka, była wcześniej widoczna na dziewczynie uwięzionej w Orphanage w "Influence".
Okrzyk Klariona: "Now, that's a Rutabaga!" przywołuje odcinek "True Colors", w którm ktoś wykrzykiwał tą samą kwestię podczas zwiedzania farmy LexCorp.
Courtney Whitmore pokazuje video z misji Outsiderów w Chicago, ale budynek na zdjęciu ma nazwę "First Bank of Metropolis".
Humvee Żandarmerii Wojskowej ma napis "Militar Policia" na prawym drzwiach, ale w języku hiszpańskich przymiotniki umieszcza się za rzeczownikami, które opisują, dlatego prawidło forma powinna brzmieć "Policía Militar".
Sposób, w jaki Harper opiera prawą rękę na biodrze, trzymając pistolet, jest fizycznie niemożliwy.
Hasło Beast Boya "Outsiders, Away!" przypomina okrzyk bojowy Titans Go!" używany przez Robina w "Teen Titans".
Static jest rozbawiony widząc Beast Boya przemienionego w zielonego szerszenia, prawdopodobnie nawiązując do fikcyjnego zamaskowanego bohatera o tym samym imieniu.
Jak we wcześniejszych odcinkach nie brakuje odniesień do liczby 16:

Outsiderzy przybywają do Meta-Human Youth Center o 16:51 MST.
Zaklęcia:
Klarion: [łacina] Oportet ministros manus lavare antequam latrinum relinquent! [Servants must wash their hands before leaving the bathroom!]
Zaklęcia Zatanny rzucane wspak:
Rehtag eht citsym rewop… [Gather the mystic power…]
Etativel! [Levitate!]
Erotser siht erutaerc ot eht strap fo sti mus! [Restore this creature to the parts of its sum!]
Eerf rieht sluos morf Noiralk! [Free their souls from Klarion!]
Rehtaf, ediug ym yenruoj hguorht S'etaf Yloh Hkna! [Father, guide my journey through Fate's Holy Ankh!]
---
---