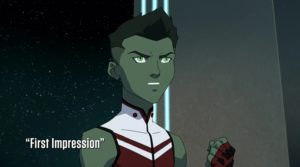 Tytuł odcinka: "First Impression"
Pierwsza data emisji: 9 lipca 2019
Reżyseria: Mel Zwyer
Scenariusz: Brandon Vietti
Twoja ocena: [yasr_visitor_votes size="medium"]
Obsada:
Troy Baker
Greg Cipes
Zehra Fazal

Grey Griffin

Bryton James
Stephanie Lemelin
Eric Lopez
Jason Marsden
Danica McKellar
Khary Payton
Mae Whitman
Geo-Force, Patrick Maguire
Beast Boy
Halo, Lian Nguyen-Harper, Antonia "Big Words" Rodriguez
Whisper A'Daire, Helga Jace, Gaby Gabrielli
Static
Tigress
Blue Beetle
Kid Flash, Thomas Tompkins
Miss Martian
Aquaman
Wonder Girl, Tommi Tompkins
Reach powraca … chyba że Outsiders zdołają ich powstrzymać!
---
Konsekwencje wydarzeń z poprzedniego odcinka nie są tak wielkie jak można by się spodziewać. Plan Garfielda zostaje błyskawicznie zaakceptowany a jego ekipa, zwana Outsiders okazuje się niezwykle skuteczna. Jak na razie zbyt gładko bohaterom to się wszystko ułożyło, ale to jedyny zarzut wobec tego odcinka.
"First Impression" pokazuje jak twórcy serialu potrafią nie tylko reagować na współczesne trendy. Dlatego dostajemy ekipę bohaterów, którzy mogą trafić do pokolenia, które niewyobrażanie sobie życie bez mediów społecznościowych ale także otrzymujemy wiele aluzji do Scooby-Doo, a przede wszystkich do serialu animowanego "Scooby-Doo! Mystery Incorporated".
Zagadkę odcinka z powodzeniem mogłaby rozwiązać Brygada Detektywów i tchórzliwy pies, ale tym razem do zadanie przypadło Outsiderom, którzy oprócz pokonania wrogów muszą mierzyć się z nieprzychylnością władz. Dobrze, że pod nogi bohaterów rzucane są różne kłody, w ten sposób łatwiej przełknąć ich momentami stosunkowo dość bezproblemowe pokonanie przeciwników.
"First Impression" robi naprawdę dobre pierwsze wrażenie. Nowa ekipa w sposobie działania i podejściu różni się od Drużyny i odpowiada współczesnym trendom, ale gdzieś w tle rozgrywa się realizacja planu Batmana.
Ocena: 4,5 nietoperka

---
Ciekawostki:
Podczas napisów końcowych Brucely śpiący obok łóżka Lian, przytulając pluszowego Kid Flash, podczas gdy słychać, że poza ekranem, Tara wysyła i odbiera wiadomości tekstowe.
Statki wojenne Reach to pozostałości po flocie ukryte w oceanie, po raz pierwszy pokazane w "Before the Dawn".
Kwestia Aquamana dotycząca nie umieszczania na cel niepełnoletnich bohaterach odzwierciedla to, co Flash powiedział w "Fireworks", aby wyjaśnić, dlaczego zespół musiał działać potajemnie, w przeciwieństwie do publicznych działań Ligi Sprawiedliwości.
Beast Boy wyciąga zdjęcie swoje, Blue Beetle'a i Kid Flasha zrobione po tym, jak uratowali meta-nastolatków w poprzednim odcinku. Ogląda również selfie, które Angela O'Day zrobiła w "Influence".
Beast Boy powtarza kwestię Superboya z " Fireworks ", gdy staje przed Ligą, "Get on board or get out of the way". Superboy reaguje na to z uznaniem.
Blue Beetle mówi, że Reach wyszedł z niego dwa lata temu, odnosząc się do "Complications", kiedy pod ich kontrolą zdemaskował się przed opinią publiczną i działał jako niechętny rzecznik Reach.
Geo-Force stwierdza, że ​​Markovia i świat wiedzą, że jest Meta-Człowiekiem, co miało miejsce w "Eminent Threat".
Komputer Hub ma powiadomienie, które Beast Boy nazwał "Troub-Alert". Ta samo nazywał się podobny system w serialu animowanym "Super Friends"
Szyderczy komentarz burmistrza Tompkinsa na temat "Newsgirl Legion" jest nawiązaniem do Newsboy Legion, młodych sojuszników Golden Age Guardiana w Brooklinie w Nowym Jorku.
Kiedy Brion opuszcza swój pokój, narzekając na głośność "Troub-Alert", widać, że jego lewa ręka zamyka drzwi, jakby klamka znajdowała się po prawej stronie, mimo że drzwi zamykają się od lewej. Poza tym w drzwiach brakuje klamki.
Ostatnia scena zawiera dwa ponownie użyte ujęcia ze spotkania w Batcave w "Triptych":

Ujęcia Batmana ze skrzyżowanymi ramionami i Robin stojący obok niego z lewą ręką w pasie.
Zbliżenie na Wonder Woman, które odwraca głowę w lewo. W rzeczywistości jest to odwrotne ujęcie oryginalnej sceny, w której odwraca głowę w prawo, pytając, co zrobiło urządzenie Reach.

W odcinku pojawia się kilka odniesień do Scooby'ego Doo, a w szczególności do serialu animowanego "Scooby-Doo! Mystery Incorporated":

Antonia gubi okulary, bez których jest bezradna, podobnie jak Velma Dinkley.
Szeryf Patrick Maguire przypomina szeryfa Crystal Cove Bronsona Stone'a. Troy Baker emuluje głos Patricka Warburtona.
Burmistrz Tompkins przypomina burmistrza Freda Jonesa, Sr., który również ma dziecko o tym samym imieniu i niechętnie zezwala gangowi na ich działania i zbieranie informacji.
Obce potwory okazują się być ludźmi w przebraniu, a Whisper A'Daire lamentuje, że mogłoby się im udać, gdyby nie wtrącanie dzieciaków; jest to tradycyjne zakończenie odcinków ze Scooby-Doo.

Jak we wcześniejszych odcinkach nie brakuje odniesień do liczby 16:

Komentarz opublikowany przez konto M-HYC 1K Wordsworth ma 16 milionów wpisów.
Konto Celi Windward to @ CWindward16.
Selfie Angel O'Day z Garfieldem ma 160 milionów polubień.
Szeryf Maguire cytuje "The Good Samaritan Law", z Brooklyn Statute 1660, aby wypuścić Outsiderów.
Cytaty:
Beast Boy: We're gonna break the rules the League can't. We're gonna connect with people in ways that can't be blocked by governments. We're gonna quiet the fears of the public terrified by the Meta-Gene Generation. And we'll do it all by inspiring that generation, because we are them, raised alongside them in the fallout of a scary meta-human world.
Tigress: Are you sure you're ready for this kind of spotlight?
Beast Boy: Green skin, can't hide.
---
---